We live in an increasingly digitalized world, where everything digital is always preferred. Nowadays, digital products have come to replace physical ones. They are a relatively easy method to scale up and get passive income.
However, having a highly-effective, useful, and powerful digital product is not enough to make a static income. It's a must to know how to market digital products. One common way is selling digital products through a blog.
Blogging is the profession of the 21st century, having so many blogs existing out there there is a huge buzz around blogs as a business promotion alternative. Entrepreneurs around the world are using blogs as a marketplace. And there are numerous reasons for it.
Blogging increases website traffic.
Blogs allow for building trust and firm connections with customers.
Blogging expands brand awareness.
But let's not hurry. Before getting acquainted with the tips for selling digital products through a blog, let's first see what are the advantages of digital products, and what challenges you might face while dealing with them.
Selling Digital Products
You may wonder why it is preferable to sell digital rather than physical products. After all physical products are touchable, you can see and touch and feel them, and they have dominated the market since the existence of mankind. How did digital products appear and immediately take the place of physical products?
Advantages
Digital products have a number of advantages that make them the right choice, especially for entrepreneurs.
Automated income: Once you successfully build and market your digital product, you get a constant passive income. The great thing about digital products is the automated income you get, and there is nothing more from your side to do, you just do it once and get an almost lifetime of passive income.
Lower costs: For digital products, the only stage that is rather costly, is the product development stage, as you need to invest some sum of money to get started. Once the product is designed and circulated in the market your costs are minimal. There is no need to be concerned about shipping, storage, etc.
Easy to build: Surprisingly enough, digital products are more accessible to produce than physical ones, plus the production process is relatively quicker and cheaper. Digital products take a lot less time to be built, moreover, the cost of production is considerably lower, as you don't have to pay for materials, machinery, development, and many other things.
Instant delivery: Unlike physical products, once a person has purchased a digital product, it arrives instantly. It gives the buyers that instant reward, a sort of gratification for buying.
Challenges
As it's famously said where there is light, there is a shadow. Though with a full set of advantages, digital products come with several downsides and challenges.
Post-payment support: Digital products such as software require streamlined customer support and product maintenance, this may be connected with an additional sum of money.
Competitive market: As we have already discussed the market of digital products is advancing and expanding day by day, thus the competition in this sphere is rather severe. Especially, if your digital product is the software you can face harsh competition.
Piracy threat: One of the biggest problems of digital products is piracy, which is almost inevitable. Digital products, such as music, videos, or e-books are more susceptible to piracy. So, it's essential to take respective security measures to avoid troubles.
5 Tips to Sell Through Blog
Marketing digital products aren't much different from marketing physical products. You have to define and target your main audience and keep constant communication with them.
While physical products can be distributed in a market and it's easier to get acquainted with the features of the product, with digital products you need more effort to distribute highlights of your product.
One of the best ways of promoting the digital product is by marketing it through your blog, this will help to build trust and raise brand awareness.
Set Product Landing Page
The first and most important thing to do is to come up with an all-inclusive product landing page on your blog website.
A landing page is a standalone page that is mostly dedicated to marketing and selling digital products, it's designed to encourage visitors to take action, more precisely buy the product. Landing pages work efficiently as there is nothing else displayed on the page except for the product description.
A landing page is where your visitors land, and it greatly differs from the home page of your website, as on the landing page there is nothing presented that can distract visitors, such as the latest articles, news, or something similar. The landing page displays only the info that will catch visitors' attention.
Distribute Content about Digital Products
One of the key rules of selling digital products through a blog is "Be informative, not sales-oriented!".
The simplest and most effective way of promoting your digital product is by writing a blog about it. It is essential to write content that will educate and interest the visitors, rather than persuade them to buy your product.
If your blog is informative, more and more people visit it, as visitors like your content they automatically become your blog fans and potential customers. When your continent shows that you can actually help your customer to deal with certain problems or situations they become more willing to buy your product to get more help and advice from you.
There is a bulk of the information available out there on the Internet. People will pay for timely and worthy content and product, the ones that educate, inform and help to solve problem․
Build Trust with Readers
Once the visitor lands on your blog website it doesn't mean that he/she is willing or ready to buy your product. In order to successfully sell digital product via blog you need to build trust with your customers.
Firstly, you need to motivate and persuade visitors to visit your website again. If after the first time, the visitor never visits your website, you miss out on potential customers.
That's why it's crucial to capture the email addresses of the visitors before they leave your website. By collecting email addresses and sending newsletters, you can have more reach to your visitors, which will potentially increase their trust in you. All this will eventually lead to sales.
One way of collecting leads from customers is embedding quizzes on your website.
Share Reviews and User-generated Content
People are always eager to know what others think about the product before making up their minds to buy. Of course, you can beautifully sell your product by describing its functions, highlights, and advantages But the most powerful are the reviews of real customers.
That's where user-generated content comes into play. User-generated content is any type of continent, be it a text, image, or video that is posted by users on online platforms.
By sharing customer reviews on your blog website you will raise the trust and credibility of your company.
Start an Affiliate Program
Another method of marketing digital products is using affiliates. Using an affiliate program you can have your loyal customers promoting your product. Sounds intriguing, doesn't it?
This method will benefit not only you but your customers as well, it will:
Raise brand awareness
Reward loyal customers
Build trust
Affiliate programs let you reward those customers who promote your product, as whenever someone purchases your product from their affiliate link they get a commission. This way you benefit your customer plus build trust with them alongside raising brand awareness.
Run Giveaways and Discounts
Our last tip for selling digital products through a blog is to run giveaways for your customers. Giveaways are an entertaining way to engage with your audience.
Who doesn't like prizes? So there is no doubt that the giveaway campaign is bound to bring engagement.
Wrap Up
Learning how to sell and market your digital product is a whole art, that needs to be properly conducted. No matter how powerful and life-changing is your product, if you are not marketing it accordingly it will go unnoticed.
Throughout this article, we together discussed one way of promoting a digital product – blogs. Nowadays blogging is one of the most frequently occurring tendencies. Nearly all businesses, no matter selling digital or physical products, have websites and blogs. So using those blogs for the sake of marketing is a solution that one might never regret.
We highly recommend using your blogs as a marketplace for your product. But be attentive to how you market. Make sure not to be irritating while selling your product with constant ads and sales pitches.
Make use of the 6 tips that will help you in selling digital products through a blog.
Do you have a digital product? How do you usually market your digital product? Share in the comments.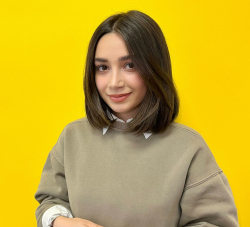 Latest posts by Anahit Amirakyan
(see all)