SaaS applications are becoming more and more common. They enable a good opportunity to build a profitable business and walk with the latest modern trends. Even though the SaaS product sales growth leans mainly on its quality factor there are still some steps to take to drive sales and make money with SaaS business. In this case, knowing about the SaaS sales funnel is very important. It is a combination of steps that an individual should take on his way to becoming your business client. A well-prepared and thoroughly planned sales funnel will assist you to obtain great leads. Then you can convert them into loyal customers, as well as increase SaaS sales. All of the SaaS sales funnel strategies should be organized according to your SaaS product type and sphere of usage. So, in this article, we are going to discuss 5 strategies for selling SaaS through the SaaS sales funnel.
---
What is a Sales Funnel for SaaS?
When looking for a good solution for their business or personal use people usually have various choices. Surely, the product developers are also concerned about how to sell SaaS. So, in order to do this it is important to guide potential customers through the selling process. After completing the process successfully, they will be ready to pay for your SaaS product. The whole way is described as a SaaS sales funnel. And becoming a customer an individual reaches the bottom of this funnel.
Simply put, the SaaS sales funnel is all about building a strong relationship with your business clients by passing through a step-by-step selling process. It gives a great opportunity to convert your company prospects into new and lifetime clients.
---
Is Saas Sales Funnel Really Effective?
Answering this question we should surely assert that sales funnels are really effective ways to grow the company's profit. This is because SaaS sales funnels help to smoothly convert the leads into paying customers. The correctly organized process can not only improve the sales quantity but also prevent companies from extra waste.
Millions of people and companies make great monthly revenue by making low-cost yet high-demand products and starting to sell them through SaaS selling funnels. Surely, on their way to increase SaaS sales, they make up-sells and other engaging promotions and offers. Yet, doing this according to the sales funnel stages is much more efficient. The analysis of SaaS sales funnels outcomes will enable you to understand where it works and where it does not. Also, you will be able to notice the weak gaps between different stages of the funnel. Collecting this information and learning all the components of your sales funnel well will assist you to understand the whole path your customers pass when deciding to buy your product.
Many well-known companies such as HubSpot, Moz, Coca-Cola, and even Netflix have already grown their profits through a correctly and smoothly designed sales funnel.
---
5 Strategies For Selling Software as a Service
Before starting to present the most effective SaaS sales strategies it is important to note that every company whether it is small or big needs a SaaS sales funnel to succeed. These strategies and the ways to increase SaaS sales of a certain company differ. This depends on the business's purposes and prospects. Yet, the main principles of the sales funnel are the same. It leans on the process of raising brand awareness, engaging new customers, helping potential customers to make a purchase, and finally getting them loyal clients.
The following guide offers 5 main stages and strategies of the SaaS sales funnel which ensures a smooth conversion and selling process.
1. Generate Qualified Leads

This is the very first and most essential step in building an effective sales funnel. Unlike other businesses that tend to obtain a new customer base through short marketing campaigns, SaaS businesses should focus on engaging new and loyal customers by raising their trust and product awareness. The newly engaged clients should make sure that your product is the best solution for the issue they face on the online platform.
So, the top of the SaaS sales funnel is generating qualified leads. This surely works great regardless of the fact you have a well-known enterprise or just build a new SaaS startup project. The methods of getting leads may vary depending on the product. Thus, it is highly recommended to define the most suitable way of promotion. This is in to obtain qualified leads for your SaaS initiative.
2. Show Up Your Product Benefits

After managing to collect qualified leads it is time to keep their attention by demonstrating your SaaS product benefits. You should show up the solution your targeted audience really needs. If your SaaS product has various proven benefits it will help you to bring clients closer to a future purchase. The process of raising your brand awareness may include presenting a case study, making comparisons, showing up user reviews and testimonials, as well as success stories.
Besides, you may offer the leads to use your product with a free trial period in order to make them try it. This will warm them up to pay for the further use of SaaS. This is the best way to show future clients your product in use. As well as let them see whether the product can solve their problem or not.
3. Raise Conversion Rate

Raising the conversion rate means selling your SaaS product while making your clients stay. When selling is the crucial aspect of your sales funnel ensuring customer retention is even more important. This is because the SaaS businesses mainly lean on monthly subscriptions which provide recurring profit. As a result, most parts of the business customer acquisition strategies include not only a short-term SaaS sales process but also a client retention plan as a long-term plan.
The more converted users the more it it possible to increase SaaS sales. There are different proven methods to raise the conversion rate. The list includes sending your clients satisfaction surveys in order to collect reviews. Also, you may lean on a well-prepared newsletter with an engaging offer or simply informative promotions.
4. Track SaaS Sales Funnel Metrics

At this point, you should track the effectiveness of your SaaS sales funnel. Here are the aspects to take into account:
Monthly revenue– this is among the most crucial identifiers of the sustainability and profitability of the company. The growth intensity highly depends on the level of company development. Also, it can increasingly change over time.
Customer churn– this is the number of clients who used your product for a certain period of time and then left it.
The lifetime value of clients– this identifier determines how much profit will bring each of the customers by continuing to use your product.
Customer engagement cost– the metric shows how much money you spend on the lead generation and conversion process. That is to say how much money do you spend to convert a qualified lead into a paying client?
These are not the only metrics to show your SaaS sales effectiveness. Yet, they are still important to take into account.
5. Follow Up on Your Clients

Following up is your final step leading to the growth of your SaaS product sales. In the case of any type of deal whether it is presented by an enterprise or a startup company it is needed to follow up with the potential customers. This is because sometimes people delay purchasing the product that seems to be a good solution for the issue they face, or it is just not the right moment to spend the funds and they do need to keep the budget for further purchases.
Whatever the reason is, it is always vital to follow up with the customers if things do not go in the way you planned before starting your selling campaign. In 70% of cases, the customers unconsciously expect and wait for the follow-up process to start using your product or getting a certain promo from your company. So, this process aims to drive your company's sales and revenue.
You can follow up with your customers with various methods depending on your business purposes and sphere. Cold calls can work significantly in a single case. While in other cases you may need a well-prepared email or social outreach campaign.
---
How Does Content Marketing Help SaaS Sales Growth?
Today almost all businesses need a well-prepared Content Marketing plan. This is to raise their brand awareness and become organically reached on Google. Content Marketing includes your published blog posts, videos, articles, descriptional papers, etc. These are meant to present your SaaS product to your targeted audience by presenting its benefits, advantages, and sphere of usage. In a way of directly engaging your potential customers in your SaaS product, you can grab their attention. This will allow you to lead them to the final step of your sales funnel which is the purchasing process.
The main principle of an effective Content Marketing plan is determining your potential customers, finding the platform where they look for the solution to the issue they face, and presenting informative and promotional content about your SaaS product.
Some good SaaS Content Marketing Agencies such as Kalungi and Codeless have already proven that presenting high-quality content will assist SaaS business owners to gain the customers' trust and drive more sales in a certain time frame.
---
In Conclusion
So, as you noticed, the SaaS sales funnel effectively contributes not only to increasing the already established companies' revenue but also to the startups' development. By narrowing down your target market and getting converted leads into paying customers you will increase SaaS sales.
Thus, summarizing the main sequence of acts you need to take in order to build an effective and profitable sales funnel is raising your product awareness, generating qualified leads, converting them into potential paying customers, and starting the follow-up process.
Simply said, the sales funnel is a combination of awareness, interest, decision, and action. If you keep this sequence successfully, make all the needed marketing and informational campaigns, and present your product in a beneficial aspect, then you will most likely sell your product and obtain lifetime loyal clients for your SaaS business.
---
Schedule a Free Marketing Consulting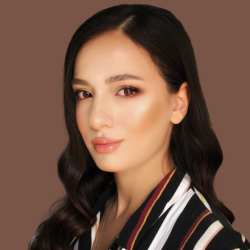 Latest posts by Anahit V.
(see all)