Skills for SaaS: Our research on how to break through SaaS Industry
The SaaS industry is booming and becoming ever more competitive. To get ahead and succeed in this industry, you need to have the right skills. In this article, we'll cover the essential skills needed to succeed in the SaaS industry and provide some tips on how to become good at them. So if you're looking to get ahead in the SaaS industry, read on!
So stay here, as you are about to learn what a SaaS product is, what are the advantages of SaaS apps, and what skills for building SaaS you will need.
Let's get down to our SaaS building guide.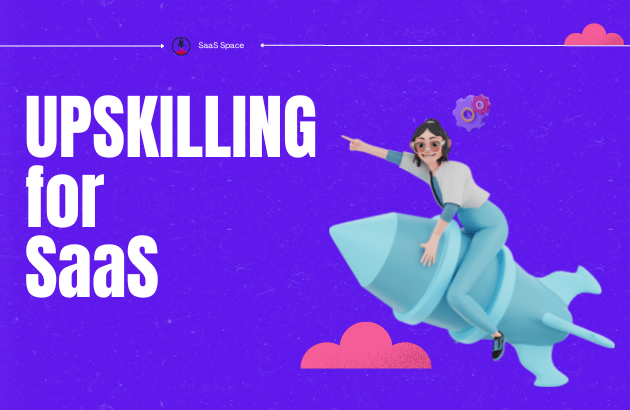 What is SaaS Product?
SaaS products are on each and every step. Not many people are aware of this, but most of the platforms we use on daily bases are SaaS apps – Google Suite, Zoom, Slack, Amazon, Netflix, and many more.
Saas is a cloud computing model which stands for software as a service. SaaS products are provided on a subscription basis and are delivered via the Internet. Meaning users can access the software from anywhere and any device by simply having an Internet connection.

Since 2015 the SaaS Market grew at an extremely rapid speed, according to Statista the global market revenue from 2015 to 2023 has grown from 31.4 billion dollars to 195.21 billion dollars.
It is already pretty clear why so many people are interested in investing in SaaS. Furthermore, forecasts for the upcoming 7 years of the SaaS industry are as well promising. Preliminary estimations show that by 2030 the SaaS market revenue will reach $703.19 billion. Given this example, you should explore to find out how you can increase SaaS Sales to be part of that revenue market.
SaaS apps are sometimes referred to as web-based or hosted software. They are a type of cloud computing giving users ease of use and requires no technical knowledge or third-party support.
In short, because the data and applications are kept in distant data centers, SaaS offers a wonderful chance to save on expensive hardware. SaaS consumers can avoid dealing with maintenance, licensing, and security concerns. Therefore, long-term SaaS development costs will be lower.
SaaS businesses face intense competition, but you don't need to create a perfect cloud service to begin. What you need is to build software that will solve common problems existing in the niche, will greatly facilitate life, and will meet the basic needs of the fast-growing industry.
Benefits of Building SaaS App
We have already mentioned in short some of the most crucial advantages of SaaS apps for the users. Thankfully, SaaS apps are beneficial not only to users but the owners as well.
Benefits for users
First, let's review shortly, some more advantages of SaaS products that can help individuals, as well as businesses to succeed.
As mentioned above, SaaS apps can be accessed from anywhere and any device having an Internet connection, This is a big plus, as there is no more need to get hardware and install software on it.
SaaS apps are automatically and instantly updated for all subscribers at once, So there is no need to follow and manually update the app.
If needed the users can downgrade and upgrade software plants at any minute with a single click.
Benefits for owners
If you're thinking about SaaS product building, you've probably considered the advantages of the SaaS business model. Let's review some of the benefits, to fully understand what building a SaaS app may offer you.
As we have already mentioned the cloud computing market, especially that of SaaS is growing on a constant basis, providing higher revenue than any other sphere of the industry. What's great, statistics show that the growth of the market will continue and will keep its fast-growing pace. So undoubtedly entering into an evolving market like this is an investment that will definitely pay off.
This follows naturally from the previous benefit. As long as more and more businesses are moving to use SaaS products, the audience of potential consumers is increasing day by day. Moreover, as far as SaaS apps are available in subscription mode, making them affordable for all businesses, including start-up businesses that have a tight budget.
SaaS developers can obtain a comparatively consistent stream of income in the form thanks to the SaaS subscription business model. They can thus plan and carry out consistent development projects to maintain their users/subscribers and reach a wider audience.
Despite all the advantages that SaaS provides to platform users and owners, It's crucial to keep in mind that building a SaaS app is not for everyone. There is a set of skills that you either need to learn the hard way or acquire before building SaaS. You will need to have and constantly develop alongside the industry development.
Hard Skills and Soft Skills for SaaS
Being a fast-growing and rather promising market there is a huge demand for SaaS specialists. The good news is that it's not too late to get on the board if you have the willingness and commitment. In order to find your place in the SaaS market there is a set of technical as well as soft skills that you need to develop. Let's get down to reviewing them.
Techincal Skills for SaaS you need to succeed
Programming Languages
Without any doubt, the core skill you will need is knowledge of programming languages. However, there are many successful SaaS business owners who do not have strong technical skills and are instead hiring.
Analytics
A cloud-service developer should constantly analyze the product data, limitations, computing power, and many other aspects and further organize the product development based on the analytics results.
SaaS Marketing
A common mistake that SaaS Businesses make is not investing in marketing, especially in Content and Video marketing combined with Influencer Marketing. Good Content about your product can end up in sales very fast.
Soft Skills for SaaS you need to become successful
Problem-Solving
In a fast-growing industry like SaaS and cloud computing problem-solving skills will always come in handy, allowing you to find a way out even from the most untangled situations. Problem-solving skills refer to both technical problems, as well as non-technical problems. One must be able to handle situations such as debugging code, addressing errors, and solving them.

Critical Thinking
Using logic and reasoning to handle various scenarios and situations in product development is essential as never before, as product development is all about considering the actions, the results, and further steps.

Communication and Team Work
Working in a SaaS team is a responsible task, as you constantly communicate with team members and stakeholders. So developing SaaS requires not only technical skills but also people skills and interpersonal skills to succeed.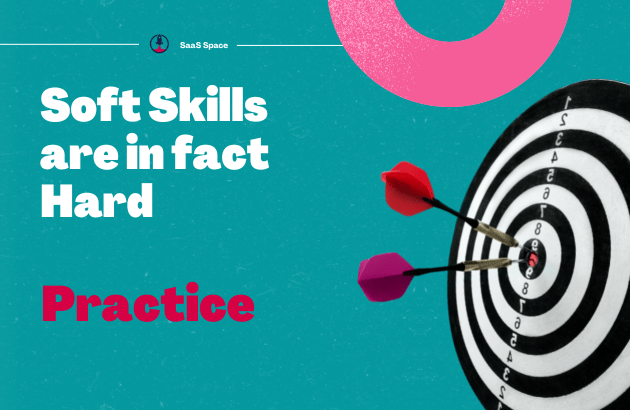 Let's take a deeper look into some of the skills required for starting a Software Business
Business Acumen
Understanding the business landscape and having the ability to identify opportunities to grow your business is crucial for any successful SaaS company. Developing specialized skill sets can help your SaaS to gain a competitive edge and maximize profitability. Those skills are:
Product design
Marketing
Analytics
Sales
Furthermore, having an in-depth knowledge of the various technologies, platforms, and systems that are used to build reliable SaaS offerings is invaluable. It allows you to make informed decisions. And learn how best to manage the product development process and create a successful product. Effective communication skills are also key to driving adoption. With the ability to communicate complex ideas to both technical and non-technical audiences, you ensure that all stakeholders are able to understand the value of your SaaS in an efficient manner.
It is important to have strong financial acumen. It will help to make decisions regarding investments, pricing, and other important aspects of the business. This skill is especially important for those in the SaaS industry. It enables industry leaders to understand the financial implications of decisions and how they can impact revenue generation. The ability to analyze financial documents, create accurate budget forecasts, and make sound investment decisions is required. Having a strong financial skill set is integral when it comes to achieving success within the SaaS industry.
Additionally, having a deep understanding of customer needs and preferences can help you create services that meet their demands. Finally, having a skill set that is tailored to the needs of a SaaS customer is invaluable. Understanding customer needs and preferences allows one to create services that meet their demands. This skill can be particularly advantageous in SaaS circumstances. Deep knowledge of customer requirements and preferences can help ensure providing quality service.
Strategic Thinking
Strategic thinking involves the ability to plan ahead and anticipate potential pitfalls or opportunities. This is an essential skill for any successful SaaS business. It allows them to anticipate changes in the market and create strategies to successfully capitalize on those changes. Strategic thinking involves understanding the various elements of a SaaS product, such as
Customer services
Marketing
Pricing
Product development

And later, working out ways to leverage them for success. This can involve being able to identify problems and spot opportunities that could help the business develop. To be successful with a SaaS product requires having a clear vision of what the desired end result is. Then strategizing how to get there.
It also requires an understanding of the industry landscape and a willingness to take calculated risks. To be successful in the SaaS space, skill development is essential. Apart from the core skill set of coding and software engineering, an understanding of industry trends, customer service skills, and analytics are key to developing a successful SaaS product. Additionally, an understanding of the market and an ability to network with potential partners or investors can prove invaluable. By investing time in skill development, entrepreneurs can gain the knowledge and confidence to bring visionary ideas to fruition.
Strategic thinkers must be able to:
Identify trends,
Identify customer needs,
Develop creative solutions to complex problems that may arise in the SaaS space
Thereafter, requirements for SaaS skills include strategic thinking and the ability to identify trends and customer needs and develop creative solutions. In this way, SaaS professionals not only need their technical skills but also must be able to bring innovative solutions to complex problems as they arise.
Technical Knowledge
Having a strong technical background is essential when working in a SaaS environment, as you will need to understand the software and how it works. Knowing how to code and implement software solutions is an important skill in the SaaS industry, as it allows you to quickly develop and deploy new services. Additionally, knowledge of cloud computing and data analytics can help professionals stay ahead of the competition, as well as provide insights into customer usage and needs.
Technical knowledge can also be used to troubleshoot any issues that may arise when using the software. For those working in the Software as a Service (SaaS) industry, having technical skills to debug problems quickly and efficiently is essential. This can involve :
Understanding the software architecture,
Being able to diagnose and fix bugs,
Being able to optimize code for better performance.
Furthermore, having experience in database design and data analysis can be useful for tracking system usage and helping to develop new features. Ultimately, having a good grasp of both technical knowledge and analytical skills can help make SaaS products successful.
Additionally, having a good understanding of databases and information systems is important for working with customer data efficiently and securely. Thereafter, skill in database and information systems management is a must-have skill for anyone looking to work with SaaS applications. This skill allows them to handle customer data efficiently and securely. It is an invaluable skill that should not be overlooked when considering skills for working with SaaS applications.
Communication Skills
Being able to communicate clearly and effectively is essential for success in the SaaS industry. Understanding customer needs and communicating products, services, and features in a way that resonates with them is key to achieving success.
The ability to write persuasive experienced ghostwriting service for marketing materials is critical for getting customers interested in your product. Writing effective content can be a challenge, but it is an essential requirement for success in the SaaS industry. Additionally, understanding the audience and their needs is key to creating copy that truly resonates with them. Of course, no campaign would be complete without effective analytics and measurement to ensure that it is meeting its desired goals. All of these skills are essential for crafting a successful SaaS product or service.
Effective communication can also help build relationships with customers and ensure that they are receiving the best possible customer service. Good communication is essential for any business, but it's even more vital for businesses implementing SaaS solutions.
Networking and Relationship Building
Networking and relationship building are essential skills for SaaS professionals, as they will help build trust and credibility with potential customers. Additionally, an understanding of technology and the ability to quickly adapt to ever-evolving trends in the software industry is also necessary for success.
Being able to create personal connections with people in the industry will make it easier to find new prospects as well as negotiate deals. Networking is an essential requirement for success in the software-as-a-service (SaaS) industry, as it can help professionals establish relationships with potential customers, partners, and team members. Cultivating relationships with industry partners can also open up opportunities for joint collaborations and marketing campaigns. Having the skill to develop successful partnerships and campaigns can be a driving force behind any SaaS venture.
Adaptability
Adapting to changing customer needs is essential for success in the SaaS industry. Having the basic skills to meet customer requirements, such as:
Understanding the marketplace
Staying up-to-date with the latest trends and updates
Keeping the customer experience positive

All of these are key components to success in this ever-evolving industry. Additionally, being able to quickly react and adjust products or services in order to fit customer needs is essential. By having a good grasp of these skills, SaaS businesses can create successful solutions that will continue to stand out and remain competitive. Developing a growth mindset and continuously staying ahead of trends can help your product keep up with the ever-evolving landscape of SaaS.
Wrap Up
In conclusion, succeeding in the SaaS industry requires specialized skills and knowledge. You need to understand the trends in the industry, have a customer-centric approach, be able to solve complex problems, and have a good understanding of both technology and marketing.
By developing these skills and being aware of the importance of customer feedback, SaaS Marketing and Promotions you can put yourself in a great position to succeed in the SaaS industry.
---
Schedule a Free Marketing Consulting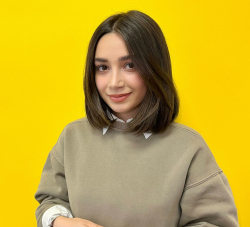 Latest posts by Anahit Amirakyan
(see all)