Being launched 18 years ago YouTube is one of the most demanded and visited platforms around the world. During these years, YouTube's performance has become even faster and better. So, many marketers and business owners take advantage of YouTube Marketing when planning their company's success strategy. And if you aim to include this platform in your future campaigns then knowing about the YouTube Marketing statistics and infographics for 2023 can greatly help you. This article will tell you about the said stats and the main benefits you can acquire when using YouTube.
---
Benefits of Using YouTube For Your Business Development
Today almost all businesses lean on online advertisement and Digital Marketing to gain awareness and boost sales. When talking about online promotions marketers are free to choose any platform they wish including Social Media, Email, etc. In this case, Youtube has its own place. Six out of ten people prefer to watch videos on YouTube rather than live TV. Moreover, it is estimated that by 2025, 50% of the users will not pay for the TV-service subscription replacing the platform for video content with YouTube.
So, investing in a YouTube channel to promote your business sales is like hitting the jackpot. People prefer to watch videos as the majority of them really perceive much better through watching than reading or listening. Thus, these massive changes affect the advertisers' and marketers' decisions to invest more in this field. Over 92% of them announce that they have gained a perfect ROI by shooting video content in 2023. Almost 82% of Internet traffic globally comes from video streaming. So, it is highly beneficial to include Video Marketing as a way to promote your business online.
---
Why Should You Use YouTube as The Main Video Marketing Tool?
This is simple. YouTube is the second most visited platform after the "parent" company Google. So, about 5 billion videos are uploaded on YouTube in one day. As well as YouTube is the third most searchable term on Google. The facts speak for themselves.
The traffic to YouTube is very high. Besides, if you do not want to upload many videos for your business then you can still benefit from this traffic by advertising your product or service through other users' videos.
Another point is that videos have higher visibility on Google by appearing in the search results more often than other content. To benefit from this fact, you can publish high-quality articles and product descriptions on your website and create relevant videos on YouTube by getting high-authority backlinks.
More often, videos raise bigger emotions than any picture or written content. So, you can take this advantage and approve higher conversion rates for your services or products. Moreover, you are able to post different types of videos on YouTube foreseen for various business aims, such as selling, explainer, presentation, etc. Videos not only keep the users engaged in your product but also have a great contribution to the customers' decision-making process. Statistics show that nearly 8 out of 10 people make their online purchases after watching the company's video or descriptive content.
As you understood, YouTube Marketing is an advantageous way to grow your business sales. Yet, there is one important aspect you should take into account. As YouTube has a big Media Library with 300 hours of videos uploaded every single minute you must optimize your videos in order not to be lost among others.
---
YouTube Marketing Statistics and Infographics for 2023
If you tend to choose YouTube for your further business strategies then it is high time you knew about the stats for marketing.
YouTube User Statistics
According to one of the most popular tools for marketing insights- Semrush, YouTube is the second most visited platform after Google scoring more than 14.3 billion visitors on a monthly basis. This is even more than the traffic to widely used Social Media platforms like Twitter, Facebook, TikTok, etc. YouTube is in third place after Google and Google Photo in the USA scoring nearly 3.71% of website searches.
To make your own marketing plan you need to consider that male visitors (53.9%) visit YouTube more often than females (46.1%).
Also, if you market a product for the US audience then you should know that 62% of YouTube users in the USA access the platform every single day. So, YouTube Marketing will be a great opportunity to reach your US audience quickly.
Another good info about YouTube visitors is that they spend 19 minutes on YouTube on average. This is a quite good time frame to showcase your product or service by presenting your video content on your channel.
Yet, your video content should be a breath of fresh air for your subscribers. This is because only 1% of users of YouTube are unique on this platform. Others are also available on Facebook, TikTok, Twitter, etc. So, in order to avoid repeating yourself, you must present unique content on YouTube.
---
Numbers Speak Louder Than Words
Indeed!! More than 694,000 hours of video content are streamed on this platform every minute. And basically, any person no matter if he has a channel on YouTube or not visits the platform once in his life. So, 81% of Internet users accessed YouTube at least once. As you see, your business presence on YouTube is more than essential.
The fact that 22% of YouTube visitors more often access the site via their smartphones will move you to make optimized videos for all types of devices. Another encouraging aspect is that mobile users tend to enter more and more videos one after another (4.63) rather than desktop users (2.84).
It is estimated that people more often use a mobile device to access YouTube in the prime time hours (08:00-11:00 p.m.). So, this is a good time to do live streams on this platform and get more reach and engagement.
Moreover, it is known that the average length of videos appearing on the first page of search results is 14.5 minutes in HD. So, you need to keep your video content short and sweet as well as approve its high quality.
The most popular topics viewed on YouTube are music, gaming, sports, comedy, tutorials, educational videos, and product reviews. For instance, in the USA, 90% of users claim they revealed new companies and businesses on YouTube. So the platform benefits also brand awareness which is the first point of the sales funnel. So, you may anticipate this when deciding on creating video content for your business promotion.
---
YouTube Shorts are Trendy
The format of 60-second videos was implemented on Youtube in 2020. Since then YouTube Shorts have become a great contribution hitting over 15 billion views daily. This proves the fact that users tend to watch and explore the needed information, have fun, or make a decision to purchase a product through a short video.
So, you can consider shooting brief Shorts to engage more users.
---
YouTube Marketing Statistics for Business Growth
As mentioned above businesses can not only benefit from uploading video content but also are able to run ads on YouTube. This is an awesome opportunity to benefit from another user's video by advertising your product or service during it. The statistics show that YouTube ads hit a 2.56 billion reach which means that over 32% of the Globe's population and 51% of the whole Internet users will come across your product through your YouTube channel. That is how brands that use YouTube marketing as a part of their promotional strategy grow their revenue 49% faster than others.
---
YouTube Statistics by Country and Demographics
The demographical fact informs that the biggest fans of this platform are males at the age of 25-34 (11.6%) from more than 100 countries. Besides, India has the biggest number of users on YouTube, as well as the biggest advertising audience. The total number of advertisers is 467 million leaving back the USA (247 million) and Indonesia (139 million). So, the relevancy of your product to the majority of YouTube users will be a big plus for the increased conversion rate.
---
To Wrap Things Up…
As you noticed, YouTube is not only a place for entertaining and fun content but it is also a platform where B2B marketers successfully grow their business sales. YouTube gives millions of opportunities to reach your targeted audience, raise your brand awareness and impact the customers' decisions when purchasing your product or service. Starting from informational, educational, and "how-to" -s to promotional advertising videos – YouTube is a brilliant tool for any kind of business.
Yet, with the large number of companies conducting YouTube marketing, it is also a very competitive platform. This is why it demands high effort and contribution to stand out from your competitors and gain your own place in the market. So, you can not jump to this platform without having a thorough marketing plan and a logical sequence of uploaded videos. In order to grow your business via YouTube Marketing it is crucial to identify your targeted audience, follow the existing statistics, and upload high-quality videos based on your brand type.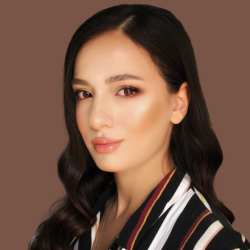 Latest posts by Anahit V.
(see all)