Have you ever wanted to know how Netflix, Slack, Shopify, or other platforms have been created? Do you know about SaaS? If your answer to these questions is yes then keep reading this article as we are going to get acquainted with examples of SaaS.
Saas is a widely popular model and is used worldwide. There are so many companies that sell SaaS products, that sometimes it is hard to differentiate. So, if you are thinking of becoming a developer to create SaaS applications then you can get acquainted with the top SaaS products and make sure that if you build a unique product then it is definitely going to bring you a lot of income to your business.
Generally, selling software products is profitable today. So, knowing the top SaaS products will help you generate an idea for building a new SaaS product.
In this article, we will understand why SaaS products are so popular and we will review the top 5 SaaS products including Netflix, Slack, Zoom, Canva, and SalesForce.
Why is SaaS So Popular?
Software as a service or SaaS has a lot of benefits that help it become more and more popular. First, it is highly demanded. Anyone having an Internet installs some applications according to his/her needs. SaaS products have affordable prices for a business. Besides, they ensure a high level of security protecting your data. SaaS applications are very flexible so it allows a lot of employees to work from home or from other comfortable spots.
In addition, the products created with the SaaS model are simple. You can easily understand how to use them as most of those products are user-friendly, have an intuitive interface, and provide an excellent experience.
Other benefits that make SaaS popular include scalability, availability, cost-effectiveness, etc. What's more, SaaS products are easy to market. Though there may be a lot of competitors in the market having a unique, multifunctional, flexible, and serviceable product will greatly help you be the first in the competition.
Top 5 SaaS Examples
1 Netflix
Netflix is a streaming service. It offers visitors a variety of movies, TV shows, documentaries, and much more. Netflix is a subscription-based system and is accessible to all users who are connected to the Internet. As you understand it has been built according to the SaaS model.
Why is Netflix so popular? It's because Netflix offers the product that a lot of people want to have.
Netflix has managed a broad market analysis and has successfully positioned itself among its competitors. Being a SaaS company Netflix completely they have all the information about their customer. Netflix knows exactly what the audience prefers to watch, which TV shows or movies. Besides, Netflix knows the popularity of its series, it knows what type of shows the audience prefers, and a lot more. In addition, Netflix has a low churn rate which attracts a lot of people and makes them subscribe to it.
Another feature that makes people keep using Netflix is creativity and the fact that it constantly offers the viewer new and interesting materials to watch. This is the thing that makes the visitor pay every month and keeps watching. Netflix is probably one of the most popular SaaS examples and it proves that even in the 21st century when it seems that everything has been created you can still appeal to people and bring their attention to your software product.
2 Slack
Slack is the second SaaS example we are going to discuss. It is an application that is built for messaging. Slack is mostly used in businesses to connect people and help them easily communicate with each other.
Today many organizations use Slack to connect with team members and send them important information concerning their tasks and so on. In addition, Slack suggests archiving, searching, and other features.
As you know Slack is quite a popular SaaS product and if you use it once you are definitely going to make sure that it is very easy to use. Slack is even better for companies that have remote workers. Slack offers the customer to create private groups, do direct messaging, and upload documents including images, videos, and different types of files.
Moreover, Slack has products that will be useful for distance learning, human resources, project management, financial services, business sales, innovation technologies, marketing, support, as well as media. As you understand Slack is convenient for companies of any size, but as we have already mentioned it can be a great help in case of having a remote working team.
3 Canva
Canva is the next SaaS product we will discuss. It is a powerful design tool. Graphic designers or just amateurs can create a lot of graphics with this tool for blogs, social media platforms, or websites. They can create presentations, posters, Facebook covers, resumes, CVs, banners, Instagram posts, logos, LinkedIn posts, stories, and many more according to their needs. Canva has an intuitive interface and is a simple tool to use. You can easily find the design tools, as well as download the graphics after finalizing them.
Today Canva is truly one of the fastest-growing SaaS products in the market. It has almost no elements that will create confusion for the visitor and provides him/her with an excellent user experience.
Besides giving an opportunity to create an individual design, Canva offers the user ready-made templates to quickly create a design if the user does not have professional skills. In other words, it has a large target audience and also scalability. Canva has an architecture that supports hypergrowth.
4 Zoom
Zoom is the fourth of the SaaS top products on our list. It is a video conferencing tool and has probably become popular during the pandemic. Besides being a SaaS-based tool Zoom today offers its customer a wide variety of features including Zoom chat, virtual events, webinars, HD meetings, and many more.
Zoom can be beneficial to large organizations, as well as small teams, and business users to organize online meetings and discuss business issues. It can also be used by educational centers to have online classes. If you upgrade Zoom you can have up to 500 participants during the conferences. Thus, it has great accessibility, as well as scalability. This tool is also useful for remote working as the team members can have meetings and send files, and documents to one another to have more detailed discussions. Besides, Zoom gives them an opportunity to share their screen and show the necessary information.
What led Zoom to its success is its user-friendly interface, knowing its target audience, as well as affordable and reasonable pricing. With Zoom, you can join the meeting with just one click. It may not seem to be an important feature but a lot of people get tired of the apps that require logging in. Thus, Zoom has understood how to attract customers by offering them all the features they need for video conferencing. 
5 SalesForce
The last SaaS example we are going to discuss is SalesForce. It is a cloud-computing platform that is used for customer relationship management (CRM). It helps businesses manage customer data, marketing campaigns, sales, and much more. SalesForce can be used in education, consumer goods, financial services, and in other industries.
SalesForce can be used for large enterprises, banks, and other types of organizations. However, small businesses can also use SalesForce according to their needs. What makes SalesForce competitive in the market is the fact that they truly understand the importance of marketing. In addition, it has capabilities meant for visualization and data analytics.
SalesForce offers its customers a lot of integrations with third-party services. It helps a business to automate its sales and other marketing processes such as email marketing.
As a cloud technology, SalesForce allows the user to work from any device like a smartphone or laptop thus being trusted by a lot of people. SalesForce products include SalesForce Marketing Cloud, SalesForce Community Cloud, SalesForce Commerce Cloud, SalesForce Integration Cloud, SalesForce Service Cloud, SalesForce Sales Cloud, and others.
Summing up
So, in this article, we made it clear why the SaaS model is so popular nowadays. As you saw that's thanks to their low costs, security, scalability, and accessibility, as well as intuitive and user-friendly interface and excellent user experience they provide.
Besides, we reviewed top SaaS examples that included Netflix, Slack, Canva, Zoom, and SalesForce. We understood how each of them has succeeded in the market with the help of the SaaS model. For example, Netflix has clearly defined its target audience, Canva has gathered all the tools for design and Zoom has all the necessary features for video conferencing. Slack has made the communication process easier for small and big businesses and finally, SalesForce has also made it easier to deal with customer relationship management issues. As you see in the case of having a unique product you can succeed in this field.
So, if you are still thinking about whether to build a product with the SaaS model then you have probably made it clear that you should do it. With SaaS, you are going to have the best experience ever.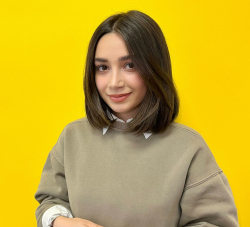 Latest posts by Anahit Amirakyan
(see all)