The world is increasingly going online. This means that people prefer to watch, read, and shop through online platforms. And at some points, many merchants try to understand which shopping system and platform are the best choice both for them and for their customers. One of the widely known software to set up and proceed with online shopping for a big variety of products is Shopify since it is used by millions of merchants around the Globe. So, this article will not only reveal the main advantages of this platform but also present some engaging Shopify statistics and trends for 2023.
---
What are the Advantages of Shopify?
First of all, let's understand what are the main purposes to use Shopify. So, this online platform can help you create, develop, and run your online business. Not only you can build your e-commerce store but also customize it through Shopify. After that, you can sell the store items through different ways such as the web, in person, mobile, etc. Also, it enables you to use the power of Social Media by giving you an opportunity to share your marketplace items on different Social Media platforms.
So, one of the greatest advantages of Shopify is that it offers a wide variety of ways to proceed with your sales. Besides it is fully hosted and cloud-based. This means that you can access Shopify from any device. With this option, you have great flexibility to work from any place in the world, run your business smoothly, as well as complete deliveries. Shopify offers a good combination to easily conduct not only product management and international shipping but also to set payment systems.
The offered templates, SEO and marketing, shipping and payment tools, etc. are always available both in any Shopify plan and the available apps you will meet in the Shopify Apps Store. These are all meant to help you turn your business idea into reality.
Altogether, there are many reasons why you should choose Shopify for your online business:
It is globally widespread.
Shopify offers many integrations for your e-commerce business.
Gives you a smooth and easy experience, as well as flexibility.
Does not require advanced coding skills.
All of these points are the greatest reasons why many people throughout the world prefer to use Shopify.
---
Shopify Statistics for 2023
Launched in 2006 Shopify is one of the widely used e-commerce platforms gathering together over 7000 people as a workforce. So, offering many advantages its largest market is the USA, and the second one is the UK. It is estimated that over 4.4 million websites from 175 countries use Shopify as the main e-commerce platform. Such celebrities as Adele, Kylie and Kriss Jenner, and David Beckham set up their online businesses through Shopify. Also, many big and small businesses like Gym Shark, Decathlon, Little Paper Mill, etc. use Shopify for their online stores.
And at this point, we intend to present the Shopify usage statistics for 2023.
If you decided to build an online business, or you are a programmer who wants to build apps for Shopify, then these statistics including the number of Shopify stores, customers, merchants, and apps will be very inspiring for you.
---
Financial Statistics
Covid-19 has strongly impacted the financial aspect of Shopify. This is because the pandemic caused the growth of online shopping demand. So, the purchasers' behavior changed, as well. And just in a single quarter of 2022, the platform's revenue increased by almost 22%. This is equal to $1.4 billion which means that the recurring monthly revenue of Shopify is $107 million.
Also, the subscription and merchant solutions and gross profit revenue increased accordingly up to $376.4 million, $989.9 million, and $662.3 million. Meanwhile, the operating and net loss cost was accordingly $345.4 and $158.4 million. Overall, in 17 years of operation, Shopify collected over $590 billion in revenue from sales with an average sale amount of $85.
---
Shopify App Store Statistics
Shopify enables its users to enjoy not only the default functions but also expand its features through different applications. More than 7000 applications are estimated in Shopify with different advanced options to build a strong e-commerce store online.
So, here is a diagram to show you the growth of app development within the last few years.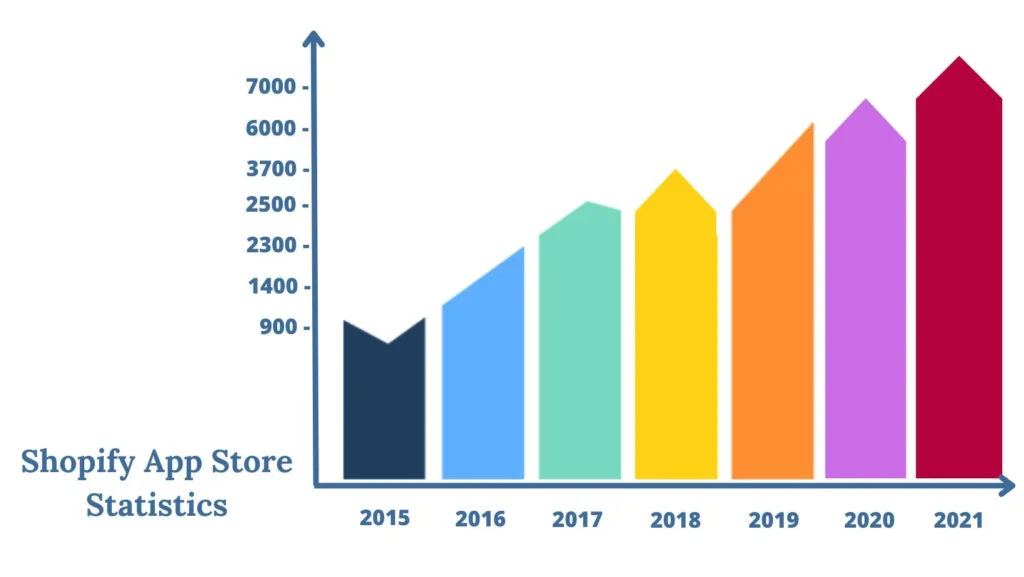 ---
Online Businesses Run With Shopify
Offering many beneficial tools of operation Shopify is a platform currently gathering together over 4.4 million e-commerce businesses. This big flow of online stores opened through Shopify is connected to the Covid-19 pandemic when the demand for online shopping and delivery became one of the vital aspects of businesses. So, many offline retailers migrated to this online platform to continue their store operations.
There are different store categories in Shopify. One of the leading types is Fashion scoring more than 105,636 online shops. Next follows Apparel, Jewelry, Bags, Makeup, Home decor, fitness, and food.
---
Shopify Users by Country
As mentioned before the biggest market of Shopify is the USA. To know the number of stores set up with Shopify in the other top countries, you can view the diagram below:
---
Shopify Business Owners and Customers
Shopify business owners are able to sell different items through different sales channels due to Social Media integrations. The list includes Facebook, TikTok, Instagram, eBay, Amazon, etc. The process is even smoother with the availability of the "Buy" button. So, this enables redirecting visitors to any website or blog to complete the sales. The easily conducted purchasing process is the key factor for 649 million people to shop on a Shopify online store just in 2022. This number is the main identifier of the Shopify merchant statistics.
These and other advantages of Shopify engaged business owners from almost 175 countries in the world 50% of which are from different states of the USA. Others are from Europe, the Middle East, and Africa, as well as from Canada, China, Latin America, etc. The increasing number of Shopify merchants impacts the growth of the revenue of Merchant Solution scoring up to $989.9 million in 2022.
---
Shopify Revenue Statistics
The main sources of getting profit through Shopify are charging its users for an annual usage subscription plan, as well as charging the business owners for various optional services and features available in Shopify apps. The growth of Shopify revenue is presented through the following diagram.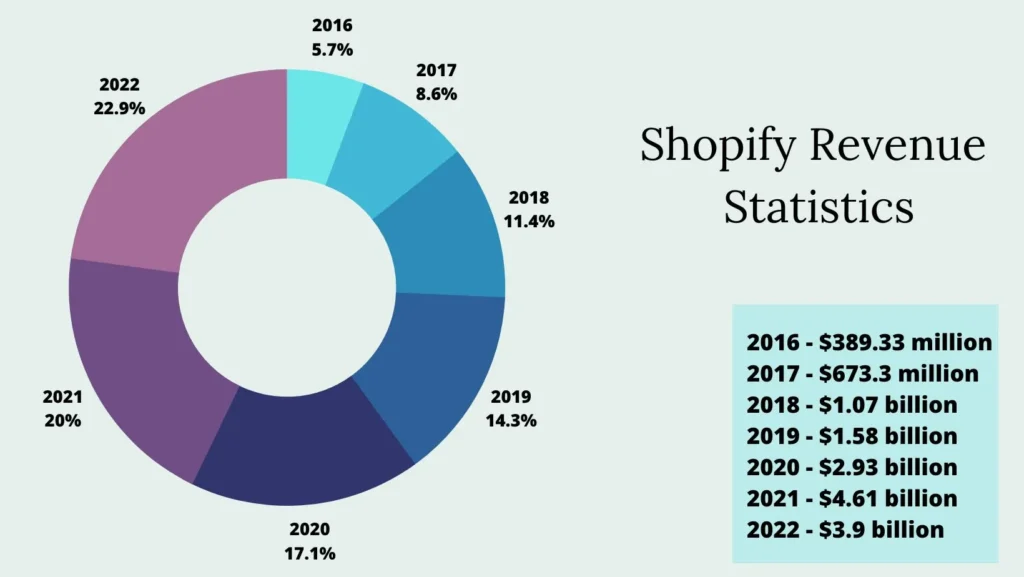 ---
Top Shopify Trends for Developers in 2023
Shopify is a multifunctional platform offering wide opportunities not only for merchants and customers but also for developers. With the rising demand for high-quality and promising applications, there are changing trends developers should take into account to keep their products up to date in the competitive market.
And in this section, we are going to review the 3 main Shopify trends for developers in 2023.
1. More Improved Practices for Mobile Checkout
Since the studies show that most parts of orders are placed through mobile phones, then in 2023 developers should focus on their apps' mobile-friendly checkout option to approve the best user experience on Shopify.
2. Using Ready Made Themes and Templates Instead of Developing Them from Scratch
It is always important to present a cost-effective yet very powerful tool developed for site owners on Shopify. That is why it will be preferable to use ready-made themes and templates. This will enable you to hire external developers instead of keeping in-house employees to make the needed changes in the pre-build theme's code.
3. Metafields for Better User Experience
Previously the meta fields were mainly used by the developers yet now we face to another reality. Having a wide array of benefits not only for developers but also for merchants and clients meta fields give users additional important information about a certain product. Moreover, the clients have an opportunity to create their own meta fields without knowing any programming languages.
---
Summing up
So, in this article, we have summed up the most important Shopify statistics and trends. According to these stats, a wide variety of businesses and users around the world prefer Shopify for setting up online stores. In addition to many beneficial advantages such as an easy and user-friendly interface, many functional applications, etc. it is a developing platform combining various types of businesses.
Besides the informative Shopify stats that prove the highest functional level of this big e-commerce platform, we have talked about the top development trends for 2023. So, if you are an app developer who wants to stand out from the increasingly growing competition then it would be better to implement your technical skills in a cost-effective and user-friendly solution for Shopify users. That is to say, the biggest Shopify development trend for 2023 is to approve better user experiences that include not only business owners who are the main target audience but also Shopify customers.
Owning a SaaS business and want to develop it through SaaS Marketing?
Know what is the difference between traditional and SaaS Marketing and get some valuable tips on Saas Marketing strategies to help you drive your sales smoothly in 2023.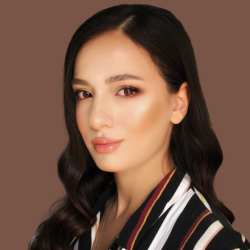 Latest posts by Anahit V.
(see all)