In today's digital age when things get automated at every step, search engine optimization (SEO) is not an exception. Nowadays, SEO is more important than ever for businesses seeking to succeed online. However, considering the constantly changing search engine algorithms and the sheer amount of data to analyze, keeping up with the latest SEO trends might be a challenging task. That is where Artificial intelligence (AI) comes in. By using AI SEO tools businesses can automate a number of time-consuming tasks, including but not limited to:
SEO-friendly content generation,
Keyword research and tracking,
Ranking higher in SERP,
Link building.
In this article, we will cover how AI tools can help automate SEO practices and explore the best AI SEO software products, and provide tips for using these tools most effectively.
1. Surfer SEO
Surfer SEO is an AI SEO tool that will help you optimize your content for better search engine rankings. With its AI-powered tools and features, it will provide you with valuable insight and recommendation to improve your website's SEO performance. Surfer SEO is a handy tool with a robust set of features such as keyword research, content editor, on-page SEO analysis and audit. Whether you are an SEO expert or a newbie, Surfer SEO will be a valuable assistant to you.
Key Features of Surfer SEO
Content editing: this feature helps in generating guidelines, outlines and actual content in any language with the best SEO practices.
Various integrations: WordPress, Google Docs, Jasper, Semrush, etc.
Keyword research: helps discover the most relevant keywords in minutes, check the search volume and intent, produce fresh content.
SEO audit: finds SEO errors, gives suggestions on improving them, helps repurpose old content by giving "fresh" ideas.
Grow flow: personalized recommendations designed to maximize your SEO efforts through content, keywords and internal links
Keyword Surfer extension.
Pricing
Surfer offers the features of outline generator and the keyword extension for free. To access the rest of the features you need to subscribe to one of their plans:
Basic – $49/month, perfect for small businesses with low SEO needs
Pro (Most popular) – $99/month, best for medium-sized businesses with multiple websites
Business – $199/month, best suited to large companies managing up to 10 websites
Note: These prices are for an annual subscription with a 17% discount.
2. SE Ranking
SE ranking is a go-to solution for your website's SEO success. It is an AI-powered handy tool that can be used for both SEO and content creation purposes. The tools SE Ranking enables will perform a number of time-consuming tasks in a relatively shorter amount of time than they usually take. SE ranking can assist you in keyword research and rank tracking, on-page SEO, backlink tracking and content creation. With the help of SE Ranking you can ensure that your content will rank higher and bring increased interest and engagement rates.
Key Features of SE Ranking
Keyword rank checker: tracks clients and competitors, identifies top keywords, identifies pages competing for the same keyword.
On-page SEO checker: evaluates your URLs, gives AI-based niche insights, gives an action plan for improving on-page SEO.
Website audit: finds in-depth website issues and gives a how-to-fix guide.
Competitor analysis: overview of competitors website traffic, target keywords, most profitable ads, backlinks, etc.
Backlink checker: in-depth backlink analysis.
Content creation: creates content briefs (SERP analysis), full content, content optimization, content quality check (given requirements) with artificial intelligence
Pricing
For getting started with SE ranking you need to purchase one of their pricing plans:
Essential – $31.20/month, perfect for freelancers and newbies,
Pro – $71.20/month, best suited to small agencies and teams,
Business – $151.20/month, best for mid-size agencies and businesses.
Note: These prices are for an annual subscription with a 20% discount.
3. Outranking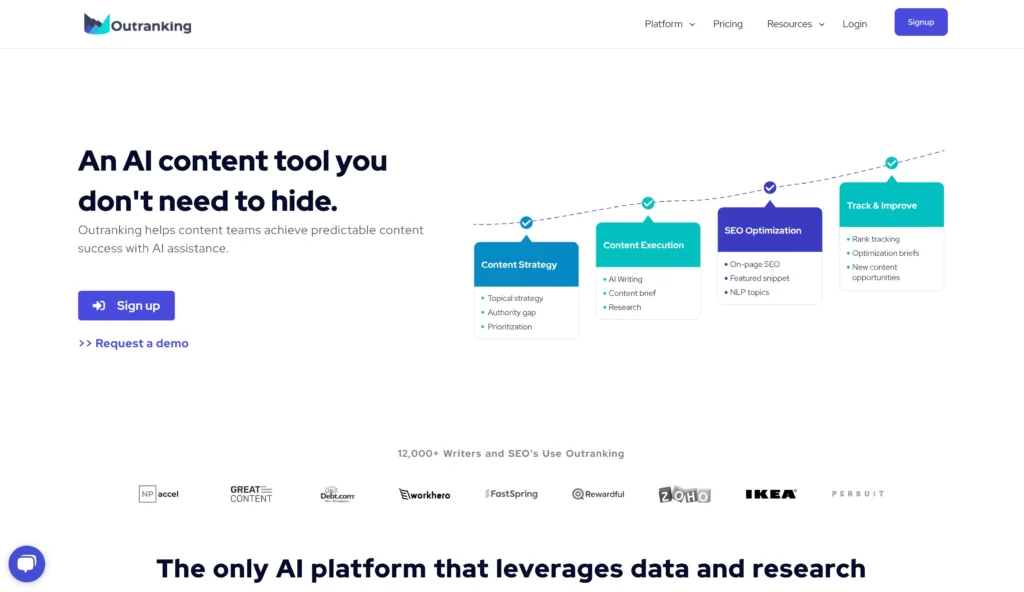 Outranking is an AI SEO content generator platform that leverages data and research to help you ace SEO content. With more than 12000 users, outranking proved to be one of the best SEO AI platforms for producing high-quality and high-ranking content. With its main focus on content generation, Outranking provides a full assistance for optimizing it, increasing the chances for ranking higher in SERP.
Key Features of Outranking
Content strategy: topic clustering, content gaps.
Keyword research: AI-powered keyword strategy for targeting your "zone."
Content Execution: AI writing, content brief, content outlines and research.
SEO optimization: On-page SEO, featured snippet, and NLP topics.
Tracking: rank tracking, optimization briefs, and new content opportunities.
Automatic templates.
Pricing
For accessing Outranking's effective tools, you need to have one of the subscription plans:
Starter – $7/ first month, then $49/month, supports one domain
Solo – $79/month, supports one domain
Pro – $149/month, supports multiple domains
Company – $219/month, supports multiple domains
Note: You can save a 2-month pay if using Outranking's annual billing plan.
4. WordLift
WordLift is one of the best AI-driven platforms that provides its users with SEO management services. It is the best fit for you if you are a startup, publisher, or an agency, and if you are struggling with traffic decrease, or your competitors outrank you in SERP. Here comes WordLift with its powerful set of AI solutions that will replace your manual daunting tasks and guarantee your website's SEO success.
Key Features of WordLift
SEO review and audit: preliminary assessment of your website's SEO.
Industry SEO framework: specifically designed SEO framework for your industry.
Semantic SEO: internal linking suggestions by the WordLift's AI tools
Technical SEO: optimizing all technical aspects, such as page speed, broken link (internal and external), crawl errors, 404 Error pages, etc.
Editorial planning: fresh content opportunities to keep up with the latest trends.
Local SEO: helps to get exposure depending on where you need it.
Off-page SEO: spots new backlink opportunities, cleans broken links, and turns off harmful backlinks.
Reporting and ROI measuring: latest results of your SEO tactics and a detailed plan for the following month.
Pricing
WordLift has three pricing plans designed for specific needs:
Starter – €49 ($53.20)/month, best for small businesses with 1 website
Professional – €79 ($85.80)/month, best for middle size businesses, supports up to 2 websites
Business + eCcommerce – €199 ($216)/month, supports up to 5 websites
Note: These prices are for an annual subscription
5. WriteSonic
WriteSonic is an advanced AI-powered SEO tool that helps content creators generate blogs and articles, paraphrase content, expand, lengthen and summarize the content. With its advanced algorithms and natural language processing capabilities, WriteSonic can analyze the target audience and create content that resonates with them. Offering a diverse set of tools and features, WriteSonic has become a one-step solution for content creators.
Key Features of WriteSonic
AI Article and Blog Writer: #1 AI writer that writes long-form SEO-optimized content in seconds; keyword and writing topics suggestions, and outlines.
Paraphrasing tool: paraphrasing articles with keywords, refreshing older content, paraphrasing in different languages
Text expander: makes the sentences longer by introducing details and keywords.
Article summarizer
Product descriptions
SEO integration: Surfer SEO (80+ content templates, full-proof SEO audit, zero research).
Pricing
WriteSonic's pricing is flexible: it offers a free trial for its users to try out the various features, enabling ChatGPT-like chatbot, 100+ AI templates, 25+ languages, and more. Moreover, it offers a long-form customizable plan that allows users to choose the suitable word count and the number of platform users. It starts from $12.67 per month and can get up to $666.
Final Thoughts
The use of AI tools has revolutionized every aspect of business life. By leveraging the various features of AI SEO tools, businesses can automate some repetitive or time-consuming tasks and use their time and resources on more important activities. The five AI SEO tools discussed in the article – Surfer SEO, SE Ranking, Outranking, WordLift, and WriteSonic – are just a few examples of the many tools available in the market to help businesses improve their SEO practices.
Latest posts by Anahit Gzryan
(see all)