Renderforest is an all-in-one branding tool that brings video, logo, mockup, and website creation in one place (Renderforest, 2020). It was created in 2013, and in 3 years already got a vast amount of users and hit over 1 million animations. This was initially a video platform. In a relatively short time, new features and tools were added, making the platform one of the most competitive branding platforms worldwide. In this article, we will explore Renderforest, starting from its user-friendliness and various features and tools to its pricing plans, and understand if it is worth giving a try.
What can You Do with Renderforest?
Renderforest is a practical platform where you can create almost everything you need for your brand. You can create:
Logos
Videos
Mockups
Websites
1. Making Logo
Logo is important in representing your brand. It is usually the first thing your audience distinguishes you with. So, having a well-designed and unique logo is necessary. You can create a beautiful logo with Renderforest in minutes.
You just need to go to Renderforest,
Click on the "Logos," and
Choose the properties of your logo:
the industry,
profession, and
the platform.
The last part will make sure you create a proper logo with the right sizes.
2. Making Videos
If you are active on social media platforms, especially YouTube, then the video tool of Renderforest is a handy assistant. You can create from 5-second videos to an hour long videos.
Renderforest allows its users to create videos in minutes. It includes:
video animations,
slideshows and presentations,
introduction videos, and
music visualizations.
What is more, you can choose one of the ready-made templates and customize it to your preferences, add some music, voiceovers, and sound effects.
3. Building Website
Website is where your potential customers learn more about your brand besides social media pages. So, you need to make sure your website looks good, is easy-to-use and informative. Renderforest will help you in this. It has designed 6 domains and templates for its users to build well-designed websites for their specific purposes:
business,
lifestyle,
personal,
event,
non-profit, and
art.
4. Generating Mockups
Mockups are important for designers because they are a realistic representation of how a product or design will look like in its final form. For instance, if you want to buy hoodies for your workers and print your logo on them, you might need to check what color of hoodies will be the best fit for your logo. Here comes Renderforest with plenty of photorealistic mockups ideas,
Renderforest mockup ideas are but not limited to:
logo mockups,
device mockups (phone, TV, laptop),
products (mug, cosmetic products),
print (books, magazines, postcards).
Why Renderforest?
1. User-friendliness
In recent years, people have gotten used to things not requiring much effort and time due to high technological innovations that have made their lives easy. Renderforest ensures that people's needs are met: it is a user-friendly platform starting from its fairly well-designed interface and ending with short written and video guides in each section. This is pretty helpful if you are not a professional but want to create eye-catching videos/logos/websites/etc.
There is another thing that caught my attention. Renderforest has a blog of 25+ articles that will help and guide you throughout the process of creating and designing. It also has a separate "Learn" button for those who want to learn more and get some tips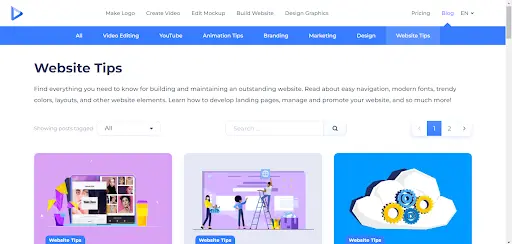 Renderfores allows individuals and businesses to:
Create a website with no coding knowledge,
Make high-quality video animations not requiring design skills,
Make logos and other designs in an instant.
This is especially useful for newbie and/or small businesses who do not have the necessary resources to hire a marketing team for each of the tasks, and instead can do the work themselves.
The other aspect that makes Renderforest stand out and user-friendly is the language settings: it has made it possible for its users to use the tools and features in 9 different languages.
2. Diversity and Freedom
Renderforest is for everyone: it does not matter if you are a professional graphic designer or an amateur designer, you can definitely make use of it. Renderforest's diversity starts from its tools. It enables you to create websites for all kinds of use, touching upon different spheres and topics; business, personal lifestyle, blog, art, etc. It includes all sorts of necessary tools for making and editing videos, creating logos, device and clothing mockups, ads posters, and presentations in one platform.
Moving on to the next feature that I liked about Renderforest is the abundance of templates. It makes the process much more manageable; instead of spending hours making creative designs, you can choose one out of the thousands of templates and customize it to your preferences (free).
On the other hand, many users who left their reviews on www.g2.com experienced the same problem as I did. Some templates have problems with rigidity; that is, they are not fully editable and do not give much freedom to the users.
For instance:
You cannot decide the length of the video animation,
You cannot customize fonts and transitions,
There is a character limit,
You should adjust your photos to the sizes required,
The templates are not flexible for you to make changes, such as the places of the picture and the text,
The loading processes slowly.
Deciding whether these are pros or cons is up to the users' preferences. For me, these are more of a "standard" than a limit. For example, they tested what amount of character it is right to use on videos in order to make them catchy, and by putting limits, they sort of guide us and give more insights into creating better designs. And this is specifically useful for beginners and amateur creators.
3. Accessibility
You can work on Renderforest anywhere and at any time, not only via your computer or laptop but your tablet and phone as well. It is both web-based and has its apps. The app of Renderforest has been available on AppStore since 2020 and a year later in 2021 on PlayStore as well. As an Android user, who is sometimes cut off from some nice apps that iOS users have, I am glad that Renderforest is available for everyone.
Pricing and Plans
I used the free version of Renderforest as well, and although it is limited, there are still many tools out there that you can make use of. Anyways, the storage is too small; you cannot delete the watermark and be free with customizing. But it is enough to give you an overall idea of what kind of results you will get with the platform, using its paid versions.
If you want to access more features and tools, you need to buy the Lite, Pro, or Business versions. And here comes the most debatable question of whether Renderforest is overpriced or not.
Renderforest's monthly pricing starts from $12.64 and gets up to $30.93. And the annual subscriptions of Renderforest can save you up to 40%.
The thing is that if you have long-term intentions with Renderforest and can afford to buy a yearly package, then the prices are quite good, while if you are using it for personal use or a short period, then it might be slightly expensive.
Final Thoughts
The user-friendliness and various tools and templates made the process of working with Renderforest pretty enjoyable. The only thing that got in the way for me as an individual the price, a little bit, provided that I needed it for my short-term goals. But for businesses, this is a cost-effective, reliable, and good investment that will help build a strong brand and not await the results, indeed. And, there are key differences between Renderforest and other similar platforms which should be considered for the fair evaluation of pricing. Rendeforest stands out with its diversity: it enables all the branding tools you need to grow and promote your business. So, the opportunities it has for you and your brand justifies the subscription fees.
Latest posts by Anahit Gzryan
(see all)