Visuals are the most important aspect of seasoning the content for your users, and in the great variety of tools Canva certainly stands out the most. It is a design platform that is useful not only for designers and specialists but also enthusiasts who want to make their pieces of content more exciting to look at. The intuitive interface is one of the advantages but today we are going to look into its free and pro features to see whether the premium version is necessary for you and in which cases you can just stick with the free version.
Before starting I would love to share some impressive statistics about Canva. According to statistics given by Canva itself, it has over 60 million users from around 190 countries. This user managed to create 7 billion designs for 2022, and this number doubled in 2023 reaching over 15 billion. Just to compare with one of the long-time leading design tools Adobe Spark has only 3 million users with over 100 million designs.

Canva Free Version
Canva's free version is a great starting point for beginners who want to dip their toes into the world of graphic design.
Canva's free version gives access to:

Social Media graphics
Flyers
Posters
Images
Elements
Collaboration
Drag-and-drop editor
5GB of Storage
No custom templates

Unlike many other tools, you do not need to pay to get access to a certain type of design, for example, Instagram posts, email marketing templates, or banners. When I say it's free, I mean it. There are no hidden costs which makes it very user-centric and easy to work with, without forcing you to switch to the premium version.
What are the Used Cases of Canva Free?


SMM Specialists
If you have the slightest wish and talent in design, Canva Free is just enough for you to come up with good-looking Facebook, Instagram, or any other Social Media posts. In the free version, you can easily create Banners, Stories, Cover images, and more.
Event Organizers
With Canva Free you can make flyers, posters, and invitations. You can also create sales and promotional campaigns, and tickets. You can add text, change images and match the ready templates to your event and theme. See an example of a Birthday Invitation Card made with the Free Version.
Applicants/Job seekers
As an applicant to your dream job, the first step must be a professional-looking CV, which Canva got you covered, without a penny spent. All you need is skills and experience in order to add in one of the free ready-made templates that Canva offers.
Students
The Canvas Free version is also great for personal projects. You can use it to make an engaging and creative presentation for school projects. Another usage is infographics which you can use for your research paper. Using your imagination or the ready charts to create visually appealing graphs.
Canva Pro Version
However, as you have guessed not everything can be this perfect so here are the limitations that you will face with the free version of Canva:
3D elements
Unlimited Storage
Most of the Stock Images
Most of the ready-made templates
Resizing the ready designs
Transparent Background Remover
Custom Fonts
Advanced exporting such as file formats of PNG and PDF
Team Collaboration
Content Planner
Canva Pro offers a more professional set of features and capabilities. With Canva Pro, you'll have access to all the features of the free version, as well as the additional benefits, mentioned above. Let's take a closer look at some of them.
Unlimited access to premium elements: Canva Pro gives you access to over 75 million premium images, videos, and graphics, which you can use to create stunning designs.
More storage: With Canva Pro, you'll get 100GB of storage, which is more than enough to store all your designs.
Custom templates: You can create your own templates in Canva Pro, which is a significant advantage if you're creating designs for a specific brand or campaign.
Additional features: Canva Pro offers additional features like team collaboration, advanced animation, and the ability to create videos.
Canva Pro also offers a 30-day free trial, which is an excellent way to try out the features and decide if it's the right choice for you.
The Used Cases of Canva Pro
Marketers/ Marketing Specialists
It is a great tool for marketers who want to create brand materials such as logos, flyers, and brochures, without spending much time. With Canva Pro, users can create custom brand kits that include color palettes, fonts, and logos to maintain consistency in their branding materials.
Project Manager
Canva Pro makes it easier for teams to do Collaborative design projects. It allows multiple team members to work on the same project simultaneously. It is great both for the team and project managers as they can closely follow the process and can also provide feedback and comments on designs within the platform.
Video Creators
If you are a video creator who is working mostly on short-form video projects, Canva Pro offers features for creating videos, such as video editing tools, transitions, and music tracks. You can create engaging videos for social media such as Shorts or Reels, presentations, and marketing campaigns.
Email Marketing Specialists
Creating an email design that will stand out from the bunch in your user's inbox always comes first. With Canva Pro you can certainly find at least 10 ready-made email templates that can be customized to suit a business's brand identity and messaging. You can also add animations and Gifs to your template to make it visually appealing, perhaps it can be a quick demonstration of your product.
E-commerce Marketers
Canva Pro offers a range of product image design templates that can be customized for e-commerce websites, online marketplaces, and social media platforms. These templates can help businesses create high-quality images that showcase their products and attract more customers.
How much does Canva Pro Cost
Canva Pro for individuals costs $119.99/year and $149.99 for teams. However, for teachers and Schools, it is 100% free including all the free and premium features. In order to be a teacher or a school first you will need to verify being a teacher.
Personal Opinion
In my opinion, if you are an individual creator, blogger, or social media creator you can fully satisfy your needs using Canvas Free version. As a Content creator, I have been able to create pretty engaging and eye-catchy banners for my cover images just by using the free version. However, from a business perspective, Canva Pro is most probably worth it as it doesn't only offer billions of elements and templates but at some level project management tool that can help you track your team's progress for specific design projects. Canva should be part of your marketing strategy as a go-to tool for visual magic
Whether you are going to use the premium version or stick with the free version purely comes from your specific needs, style, frequency of using this tool, and specific goal when it comes to design.
Nice to know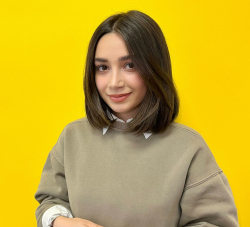 Latest posts by Anahit Amirakyan
(see all)