Artificial Intelligence has greatly changed the imagination about Digital Marketing and particularly content creation. Due to these smart tools, both written and audio content creation are now accessible to almost anyone who runs a business, studies, or simply wants to present content for personal use. While some people still lean on creating their audio content on their own you might wonder which AI tools can be a big help to you. So, this article is going to tell you which AI audio tools are trendy and feature-rich to generate the most unique and specific voiceovers for your different purposes.
---
Why Use AI Audio Tools?
Before heading to the best audio tools presentation, you might think about why you actually need this software. So, here are the activities AI covers perfectly.
First things first,t AI audio tools enable you to edit audio files. This enormously saves your time by helping you to edit color grades or mix some sounds. Besides, AI quickly recognizes the speech and gives precise content recommendations.
The quality of your voiceovers is under the strong control of AI tools. Thus, you can make sure you receive high-quality audio content.
So, the three things we might assert about AI audio tools are:
Ease of use
Fast operation
Affordability
---
Best AI Audio Tools for 2023
There are some criteria you need to take into account when starting to use a certain AI audio tool. This includes a realistic speech generator, a wide variety of voice selections, supported languages, and voice adjustment options. Also, it is important to make sure that the tool integrates at least some of the greatest video editing software. This will allow you to use the generated voice-over in the video editing process.
Wondering which AI audio tool will be a good fit for your business or personal needs? Below, you will find your top 5 solutions.
GetSound is the first AI audio tool from our best list. It is a unique tool to create a relaxing atmosphere for users. The audios created with this AI tool aim to respond to the sounds of the environment, such as weather, daytime, light exposure, or location. It is a real-time audio generator tool that can highly benefit your well-being or relaxation.
You can use the tool for different aims, such as meditation, relaxation, sleep, etc. The tool keeps playing the audio as long as you wish to hear it. So, not only do the individuals benefit from this great tool but also hotels, spas, and yoga centers will put to good use of it. Moreover, the app supports multiple zones simultaneously. So, if you run a multi-purpose business in a related field then GetSound can generate a specific audio for each zone or space to match it perfectly.
Pricing
The user-friendly GetSound soundscape offers a free version with a weather synchronization option included. Yet, you can upgrade to the monthly affordable Pro plans with lots of advanced features any time you need:
Personal – $9
Small Business – $29
Enterprise – personalized price
---
Another easy and quick way to transform any written content into a real human voice sound is Speechelo. Just 3 clicks and a professional voice-over is ready. To do so, you need to:
Paste your content in. the corresponding box.
Choose a voice type you prefer.
Generate sound and download it with ease.
There are more than 30 voices including both male and female sounds to choose from. Also, Speechelo enables you to add voice inflections, change the voice speed and pitch, and read the speech in a normal tone, serious or joyful.
In addition, this AI audio tool allows the users to generate voice content in 24 languages including English, as well. And if you decided to use the generated sound in your videos for more professional results, then Speechelo supports the following video editing software:
Adobe Premier
Powtoon
Animaker
Camtasia, etc.

Pricing
Speechelo which is a great help for generating sales, training, educational, and other types of audio content costs $27. This is a one-time fee that is 100% refundable within 60 days after the purchase.
---
The third best AI audio tool is Speechgen. It is a unique text-to-speech converter that enables generating and downloading audio files by typing your content or importing it to the text box.
Due to its advanced features, Speechgen will save your time and money allowing you to create a high-quality realistic audio speech for your business or personal needs and use the sounds to make your commercial videos more professional. Aside from this, Speechgen is a great help to easily and quickly generate E-learning materials, podcasts, voice essays, advertisements, presentations, documents, greetings, welcome audios, etc.
This AI audio tool accepts texts with up to 2 million characters per audio generation. What is more important about Speechgen – it offers multiple voice editing and supports many languages for content. You can find a wide variety of male, female, child, and elder voices while converting your text to audio. Also, you may adjust the sound speed, pitch, pronunciation, pauses, etc. Moreover, you are able to save the generated audio file in different formats, such as MP3, OGG, and WAV absolutely free of charge.
If you tend to use audio for your videos then you should know that Speechgen is highly compatible with such video editing software, as:
Adobe Premier
Audition
Apple Motion
Adobe After Effects
iMovie
DaVinci Resolve, and many more others.
Not only are you able to create great audio files with your desired content but you can also share them with your friends via the generated URL.
You are allowed to access your created audio files at any time you need. This is because they are saved in your Speechgen profile through the cloud server.
Pricing
Speechgen is a very affordable yet comprehensive AI audio tool for commercial or personal needs. The prices for the voice-over limits vary:
25,000 characters – $4.99
65,000 characters – $9.99
200,000 characters – $24.99
500,000 characters – $49.99
By activating one of these plans you will enjoy Speechgen's seamless features and fast-replying support service.
---
Resemble is among the best AI audio tools. It offers not only a text-to-speech transformation option but also gives users an opportunity to transform their audio to a target voice with available real-time realistic sounds. This will ease your experience to improve call quality in call centers, design smart assistants with a specific voice, use the generated audio in advertisements, entertainment, or record an audiobook.
Use cases are very wide. This is because Resemble provides a great variety of features, such as:
Implementing emotions (happy, sad, angry, etc.) without providing any data.
Use more than 50 languages available.
Mixing realistic voice with synthetic
Voice cloning that enables you to record your voice or upload data free of charge
Along with these options, Resemble offers integrations with Aircall, Twilio, Five9, TikTok, Genesys, etc. to use your custom AI voices of high quality.
Pricing
You can try the Resemble AI audio tool for free without the need to attach a credit card. For more professional features, you can activate one of the available plans:
Basic – $0,006 per second
Pro – customizable price
---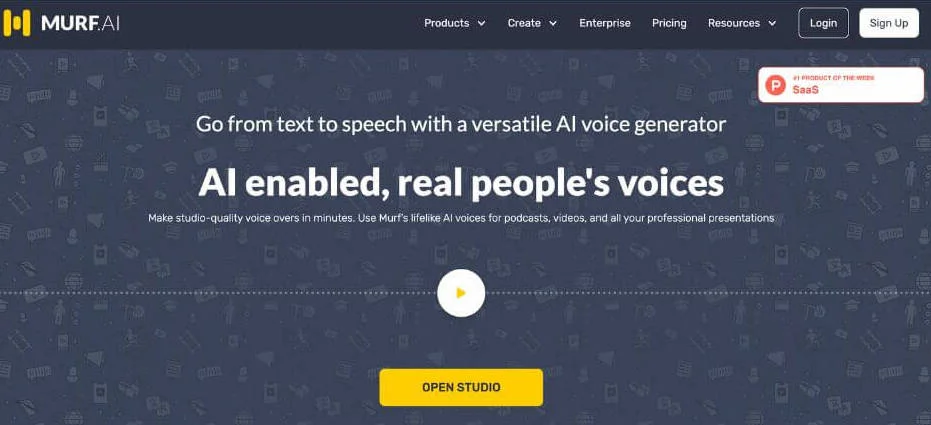 Last but not least top AI audio tool is Murf. Through it, you can quickly generate human-like realistic voices that have a studio quality. This audio can be widely used in podcasts, commercial videos, and presentations. The available voices are personalized indicating the sphere of operation of a voice owner. By this, you can easily select a voice and use it for almost all your needs such as corporate, entertainment, creative, etc. Among the available voices, you can find product developers, marketers, authors, educators, podcasters, animators, customer support specialists, etc. There are more than 120 lookalike voices in more than 20 languages.
In addition, you can add your desired video, music, or image. The sounds are adjustable meaning you can control pitch, emphasis, speed, and interjections. One of the unique features of Murf is that it allows you to convert your home-recorded audio into a realistic and professional voiceover.
Pricing
Murf offers a free plan to enjoy some of its great features. However, to access the huge world of other options, you should activate one of the Pro plans:
Basic – $19
Pro – $26
Enterprise – $99
---
To Wrap Things Up
So, AI has transformed audio content creation into a real-time fun, and quick process that does not require coding skills yet is very professional and handy. AI audio tools can highly enhance voice quality, remove the noise in the background, as well as generate audio content with ease. The use cases of these smart tools differ. you can use them to make educational e-books, podcasts, commercials, customer service voice messages, documents, greetings, etc. Moreover, using these tools will save your money spent on different voice artists or a long recording process.
The above-mentioned AI audio tools are the best in the industry. Thus, all you need to do is choose one and enjoy its seamless features in hand.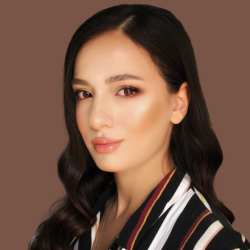 Latest posts by Anahit V.
(see all)