Almost any business owner who plans online events on his Shopify store comes across an issue of what ticketing system should be used for an effective operation. In fact, the event ticketing system is an undividable part of the event planning process. To make the process easier, Shopify has many event ticketing apps. These are meant to make online event management simpler and smoother. But, what ticket management app matches your business needs? We are here to answer this question by comparing 3 widely known apps for Shopify.
---
Why Do You Need a Ticket Management App?
First things first, what is a Shopify event ticketing system? It is a feature that allows event organizers or business owners to create, manage, or sell their online or physical event tickets on their Shopify store. Ticket management apps help make the whole Shopify event ticket selling and buying process convenient both for the organizers and attendees.
The first benefit of ticket management apps is enabling attendees to purchase tickets whenever they want without facing an in-person transaction process. In addition, they improve the user's experience by presenting a customizable ticket design. This in its turn, benefits the company's authenticity greatly matching the brand's uniqueness.
Aside from these advantages, ticket management apps highly contribute to increased sales. This is through user-friendly promotional tools and a perfect customer engagement score.
In addition to the picked features, we would like to spot that a good Shopify ticket management tool must be firstly secure. This is because the system may include too much personal or payment data which should be kept private.
---
Which Ticket Management App is Better for Shopify? – Starstream VS Evey VS Event Ticketing
So, the main topic of this article is to offer you a great Shopify ticket management app. For this, we have chosen 3 famous apps to compare their features and decide which one is better for your Shopify website.
But first, let's look at these apps separately!
---
Initially, Starstream was born to cover the need of selling live stream tickets on a Shopify shop, but they are now offering physical events as well. Offering both online and physical events is a unique and distinguishable feature that makes the app stand out from other competitors. The app scores a 5/5-star rating on Shopify based on the satisfied customers' reviews.
Aside from this, the app reduces the risk of cross-sharing which is a common issue across the industry. The Starstream Shopify App provides paying customers with the live stream link only 24 hours before the event begins. Additionally, Starstream sends reminder emails and calendar events to maximize participation. Starstream is really the optimal app if you want to increase your ticket sales with high security.
The Starstream app is also great for selling tickets for a physical event. When enabling this option, a QR code is sent to each attendee, and it's easy to scan the ticket at the gate with the Starstream QR Code Scanner. The scanner can be installed on an unlimited number of devices for big events.
One of the greatest features is the event replay option. This benefits the user experience by sending a recording of the event to the participants after the event took place. This makes sure those who can't attend still benefit from the ticket they bought.
---
The next app we have chosen for this comparison is Evey Events & Tickets. The app's rating on Shopify is 4.4 out of 5 stars. This is another easy way to sell tickets on your Shopify e-commerce store requiring no programming skills to conduct with all the features.
The Evey app does not host events on other platforms. It is a simple Shopify ticketing app that does not use the attendee's data in the company's Marketing campaigns.
However, the users complain about the bugs they have faced while using the Evey app. This mainly refers to the server on which the check-in service runs. Some clients assert that it is too slow and not reliable.
---
The third app in our comparison is Event Ticketing scoring a 5-star rating on Shopify. The app's setup process is very simple. So, like in the case of the previous 2 apps, you can create a brand-new design for your company's event tickets.
Almost 80 scanners can be concurrently handled by this app. This, in fact, is a good identifier of the app's operation.
---
What are the Main Differences Between the 3 Ticket Management Apps?
As you have read some general notes about these ticket management apps it is time to know the main differences between them. This will help us decide which one will win the competition. Below, you may spot the main features according to which we are going to compare the 3 apps.
1. Event Types
Companies may need to organize both physical and online live events to sell on the Shopify website. So, when choosing a ticket management tool you need to pay attention to its feature supporting both event types.
In this case, Starstream stands out from Evey and Event Ticketing. The Starstream app is specialized in selling tickets both for online and offline events with a high level of security.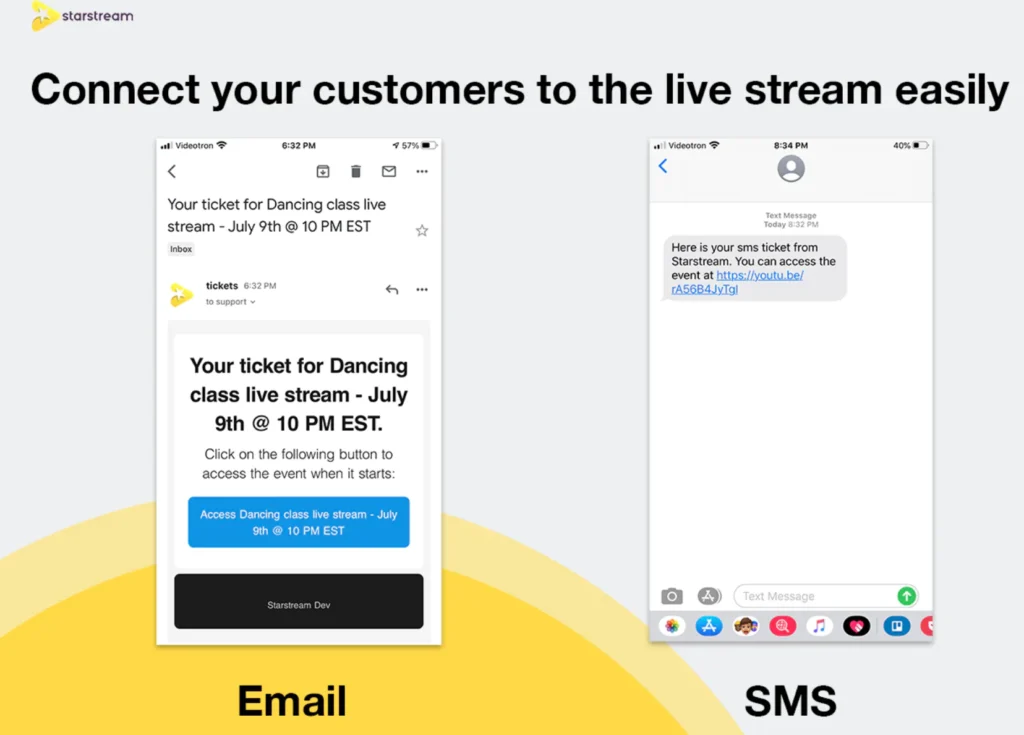 As for other apps, they are more focused on physical events rather than offering online event ticketing features.
2. Event Reminder
Reminding the event attendees about the tickets they bought or giving them important information about any updates is too important. In this way, you will enhance the user experience on your Shopify website.
Starstream aims to bring your website good user engagement. This is by sending reminders to the attendees before the beginning of the event or adding the events to their calendars. Another engaging factor is that the app is compatible with all the major Calendar apps (including Google, Yahoo, Outlook, etc.). So, this is a great feature that does not limit the client to using this or that Calendar app to have the event added to it after buying the ticket online.
Evey also enables event planners to send custom messages to attendees through Email and SMS.
Event Ticketing offers only Email Tickets in one of its paid plans.
3. App Integrations
If you choose to move forward with Starstream then you can make sure you will never have any troubles related to an event hosting platform. This is because the Starstream app is totally compatible with such streaming services as Facebook, YouTube, Zoom, Vimeo, Google Meet, etc. In addition, the event hosting on your own Shopify store is also highly supported.
Evey, on the other hand, integrates only 4 major apps, such as Zoom, Shopify POS, Klaviyo, and MailChimp.
As the Event Ticketing app is only focused on the physical event ticketing process. So, it does not offer any online streaming platform integration. Instead, you can find Apple Wallet, Honeywell scanners, Shopify POS, Klaviyo, Flow, and PDF ticket integrations in it.
4. Security
As mentioned above, security is too important for the ticket management app on Shopify. This is because it contains sensitive information about the attendee starting from personal data to financial details, etc. So, it is of high importance to learn more about the security level the ticket management app offers you.
In this aspect, Starstream wins the two highlighted apps. The access to the Live stream can be protected with the company's "Starstream Secure Send" function. This is mainly aimed to protect your live events from the attendees that do not pay for the ticket.
5. Ticket Scanner
Another important feature of the ticket management apps is the ticket scanning process.
Starstream offers a simple and smooth QR code scanner.
Evey also offers a QR code scanner for the event check-in. Here you can use your mobile apps.
Also, the Event Ticketing app offers a phone camera scanner or laser scanner for the supported physical events.
6. Customization
Ticket customization is essential to match your brand perfectly. In this way, you put your unique signature in an event planning process by presenting your company to your customers from the very first moment of engagement.
All 3 apps offer customization tools. However, Starstream distinguishes itself by the top-notch customization options referring to the ticket, reminder message, notification design, etc.
7. Support
Support service is one of the most crucial components of each app you purchase on Shopify. Being aware that you will get all the needed technical support in a fast and effective manner is one of the identifiers for choosing a digital product.
So, Starstream provides quick high-class support. As for the 2 other apps, some of the customers complain about the provided customer service speed.
8. Pricing
Pricing is also included in the list of basic aspects of whether the user will go with the product or not. So, here are the pricing plans offered by these app development companies:
Starstream
Free Installation – $0.99 per sold ticket under $20 ($1.99 per sold ticket costing more than $20)
Premium Support – $99 per month (the same charges are actual for this plan, too)
Evey Events & Tickets
Free Installation – $1 per sold ticket
Standard – $49 per month (plus $0.5 per sold ticket)
Professional – $189 per month (plus $0.25 per sold ticket)
The app also provides a 14-day free trial.
Event Ticketing
Free Installation – charged $1 per sold ticket
Advanced – $19 per month (plus $0.75 per sold ticket)
Professional – $99 per month (plus $0.5 per sold ticket)
Plus+ – $999 per month (plus $0.25 per sold ticket)
There is also a 3-day free trial for the paid versions.
---
The Verdict – Who is the Winner?
Coming to the end of this article, we would like to summarize our thoughts about the best ticket management app for Shopify. Based on the facts, features, and pricing plans mentioned above, Starstream is on a roll.
We have chosen it thanks to its secure, simple, easily managed features, and customization options. What is the most important thing about the Shopify Starstream app – through it you can surely conduct ticket management both for the online and physical events. So, this is a 2 in 1 solution for your Shopify site you will definitely benefit from.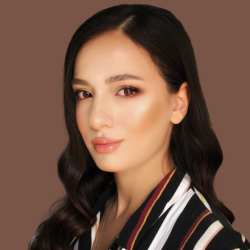 Latest posts by Anahit V.
(see all)