In this fast-changing world, where AI has surpassed people in many areas, a new kind of "fight" has started between writers and AI writing tools. On one side, there is the creativity of human writing. On the other, there is the lightning speed and precision of AI. For businesses, AI writing tools have become some sort of assistants, since they allow business owners to skip some of the time-consuming tasks and concentrate on more important and strategic assignments. What's more, there are some tools that have concentrated specifically on writing and developed features that can generate content in seconds, with a good structure, and with the right keywords.
So, if you have this working attitude in mind, we are here to walk you through the best AI writing tools that will become your best buddies. We have come up with two of the best tools on the market – Creaitor AI and INK. To make your job even easier, we will compare two of the best AI writing tools and give you the overall winner. If you are ready, let's get started!
We will compare our tools based on these criteria:
Ease of Use: we will examine how intuitive the interfaces are for users. We will consider whether they allow their users to quickly and easily navigate through the dashboard.
SEO tools and Features: while the content is important, it is also important that the tools have certain SEO features (keyword research and planner, SERP, etc.) so that the content can rank high on Google
Templates and AI assistants: Having templates and different AI assistants to support the users for respective tasks is also vital. We will look for a tool that provides their users with multiple services.
Languages: we will examine the extent to which AI writing tools can handle different languages and meet different audience's needs.
Quick Comparison – Creaitor AI vs INK
| | | |
| --- | --- | --- |
| Factor | Creaitor AI | INK |
| Ease of Use | 5/5 | 5/5 |
| SEO Tools & Other Features | 5/5 | 3/5 |
| AI Assistants | 4.5/5 | 4.5/5 |
| Languages | 5/5 | 4/5 |
Ease of Use – Creaitor AI vs INK
This is the primary factor to pay attention to when choosing any kind of tool. When it comes to AI writing tools, it is necessary to pay attention to the dashboard, distinctive tools for certain functionalities, etc.
Ease of Use – Creaitor AI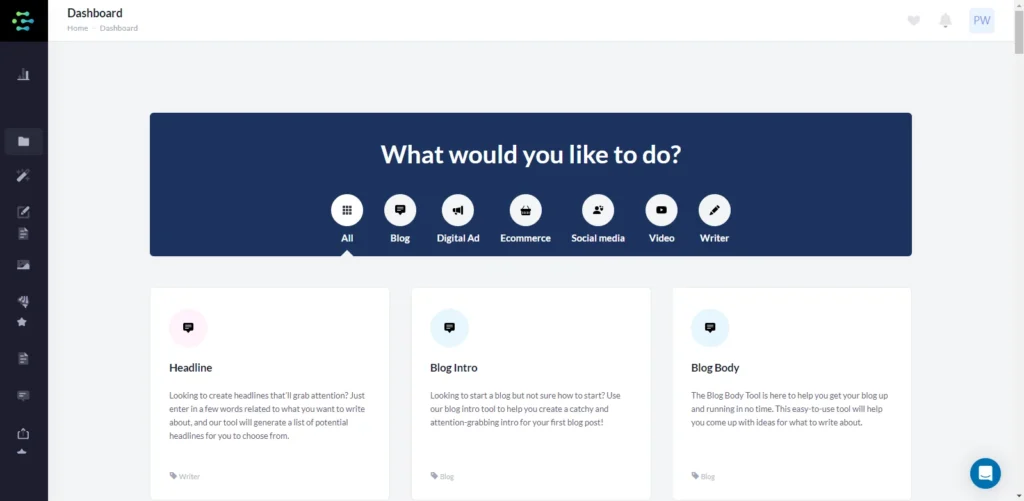 Creaitor AI is one of the best AI writing tools firstly because of being one of the easiest to use on the market. The navigation on this platform is fairly simple. You can easily access and choose what you would like to generate, such as a "blog," "digital ad," "ecommerce," etc. Each of the sections have their subsections to precisely meet your needs. For example, the "blog" section has the "blog intro," "blog body," "blog outline," and other subcategories. Once you are done with the topic, the rest is as easy as ABC. You will only need to make a couple of configurations, such as the tone of voice, the level of creativity, choose the target audience, and the number of generating examples.
Furthermore, they have very supportive chat operators and a help desk, where you can find more than 10+ articles guiding you through the whole process of content generation.
Ease of Use – INK
Similarly, the navigation bar here on INK is easy and seamless. After choosing the document type ("blog post," "social media campaign," "email campaign," or "ad campaign"), you will need to fill in some required fields, such as the audience and the title and click on generate. That's pretty much it. Plus, when clicking on new features guiding videos will appear on your screens each time, explaining the tools.
Ease of Use – The Winner
This time we have win-win! Both AI writing tools stand out with their easy-to-use interfaces and dashboards and good sets of helping resources. While Creaitor AI has got some more configuration options for better content generation, that is something we will examine further. Moreover, both tools provide priority assistance to their premium users.
SEO Tools & Other Features – Creaitor AI vs INK
Generating content might be easy. Generating content with well-researched keywords is not that easy. However, the tools that we have curated for you, do everything to deliver a high-ranking content. Let's see what SEO, as well as other features our AI writing tools have got.
SEO Tools & Other Features – Creaitor AI
SERP Beater: With Creaitor AI, you do not need to go outside your dashboard: everything can be done within it. With its precise SERP Beater feature, you can type any kind of keyword, choose the search engine and language, and it will bring all the necessary information about it. Afterwards, when considering the keyword's ranking score and ranking difficulty you can go on and use it in your blogs and articles.
Keyword Planner: This feature is really a standout! Previously, you would have to perform your keyword research in a separate, expensive tool. Well now Creaitor AI allows you to do that easily on its AI content generation platform. Simply enter the topic you are researching and Creaitor will generate a series of Keyword Clusters with focus keyword, related keywords and the search volume for each cluster. Selecting a keyword cluster is the starting point to launch the SERP Beater.
Blog Wizard: The Blog Wizard is one of Creaitor's most powerful content generation tools. You can start it on its own, input the topic you want to write about and it will guide you through the entire process. However, ideally you've performed a keyword- and SERP analysis and use the results to launch the Blog Wizard. The Blog Wizard will first suggest a number of titles for the blog followed by a wide range of H2 and H3 outline blocks to piece together your content. It allows you to add a pregenerated FAQ section and off you go: The entire blog article outline is generated with writing points for each section that you can curate before generating the final text. The result is quite impressive: between 2000 and 4000 words of optimized content for the chosen keywords. A SEO analysis of the output rounds off the content to ensure that you are creating top quality content.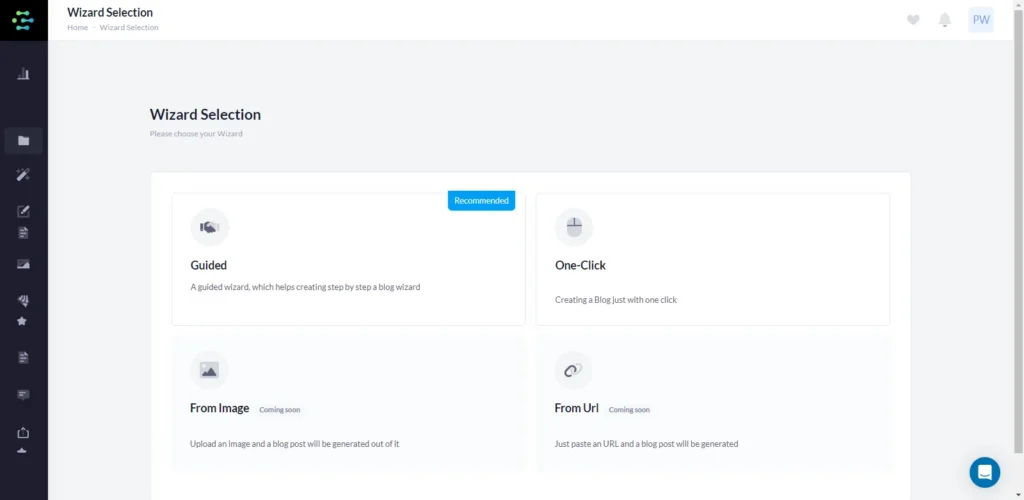 Editor: The "Word-like" editor allows you to generate, optimize or improve any type of long-form text. The output of the Blog Wizard will also end up in the editor. You have direct access to the Image Generator which allows you to enrich the article with high-quality images, as well as access to an AI Chat function if you require assistance editing the text. On the dashboard, you will also find SEO tools which will help you ensure that your content is optimized. First of all, you will need to insert your text and focus keyword there and click on "SEO." After checking your content, the SEO tools will make some suggestions, such as the readability score, focus keyword's usage throughout the text, etc. You can also add Metadata, that will help you generate meta tags and descriptions that introduce your content to their best.
Image Generator: While before Creaitor AI, you needed to use a couple of tools for different purposes, it is not a problem anymore. Now, you can even create images right into your Creaitor AI dashboard,without leaving it. You simply need to go to the "Image Generator" section, write a detailed description and set some preferences. For instance, you can choose the theme color, the style, mood, lighting, texture, art style, etc. In the end, you get 4 results from which you can choose the one you like the most.
SEO Tools & Other Features – INK
Keyword Research: With this tool that INK has, the users can have a huge base of keywords on hand. You will simply need to write your primary topic, choose the target audience and its objective and click on analyze. Afterwards, the tool will give you a list of keywords with their volumes and ranking difficulties.
Image generator: This feature allows its users to generate quick and realistic images right into INK's dashboard. Here you will need to write a description based on which the AI will generate the image. The only downside here is that it does not have separate fields for the theme color, style, or lighting: you will need to do that manually.
SEO Tools & Other Features – Winner
We have an absolute winner here! Creaitor AI not only outranks the number of SEO tools and other features, but also has the better version of those tools that both Creaitor and INK share together.
AI Assistants – Creaitor AI vs INK
The number of AI assistants and how many tasks one can complete using only one platform is a critical factor. Let's now see which of our tools has the most number of assistants!
AI Assistants – Creaitor AI
Creaitor AI has more than 70 AI assistants. Crazy, right? It can help you generate:
Reviews,
Blog,
Ideas (brainstorm),
Cards,
Digital Ads,
E-mails, etc.
Within these categories, you can go deeper and generate headlines, blog intros, blog bodies, blog outros, as well as FB ad title, FB ad text, and much more.
AI Assistants – INK
INK has a separate AI assistant for asking to generate any kind of content. You will simply need to ask INK your inquiry and further provide some content. On your right sidebar, your newly generated content will appear.
AI Assistants – Winner
If you like things more structured, Creaitor AI might be your first choice. Firstly, it has separate assistants for respective tasks, and secondly, all the assistants have advanced options where they allow their users to choose the tone of voice, creativity level, target audience, the presence of emojis, and the number of outputs. On the other hand, INK allows its users to generate any kind of content using just 1 AI assistant. Here we have a win-win situation but I would slightly go toward Creaitor AI as our winner.
Languages – Creaitor AI vs INK
Language is a key factor in determining whether the users are or not willing to use the platform. The more interface and output languages available, the more accessible the platform is for the users. Let's see on what level our AI tools compete this time.
Languages – Creaitor AI
Creaitor AI has 5 interface languages: English, Spanish, French, German, and Italian. When it comes to output languages, meaning the language of content generation, Creaitor AI stands above the competition. It has 40+ output languages, allowing users to generate optimized content in various languages.
Languages – INK
INK has 30+ output languages, which still makes itself an accessible tool for many foreign language speakers. As for the interface language, unfortunately, it only has English by default.
Languages – Winner
Pretty obviously, our winner for the "languages" factor is Creaitor AI. With its diverse set of platform languages, it is accessible for many users.
Final Words
Ta-da-dam… Wrapping up, we have left with our winner Creaitor AI! This tool stood out for many of the aspects that we have covered. Amazingly, it either surpassed its competitors or shared the floor with them, but never failed. And after our careful review and testing, we can now surely say that when choosing Creaitor AI, you will be able to fully concentrate on more strategic tasks, leaving the rest on Creaitor AI. INK is also a competitive tool on the market, but if you are seeking a tool that is more detailed and structured, Creaitor AI is our top recommendation for you.
Latest posts by Anahit Gzryan
(see all)