Over 2 million businesses worldwide run their websites with Shopify making it a comprehensive platform for e-commerce. In addition, over half of Shopify users and merchants tend to implement quizzes on their websites. You have probably met this experience, particularly in cosmetic, fitness, jewelry, or healthcare business websites. So, quizzes are an interactive way to make your product reach the right audience, raise your brand awareness, and collect important data about your clients without spending a big amount of money. Making quizzes on Shopify is a quick and fun process if you use Shopify quiz apps. So, we are here to reveal the best quiz app listing for 2023.
Why Use Apps on Shopify?
If you are reading this article, then you probably want to add quizzes to your e-commerce site. We should assert that it is a great idea if we take into account all the perfect results you can pick up after the quiz implementation. Aside from their wide popularity on online platforms, you can find other reasons to build these interactive quizzes. Let's look at them one by one:
Quick Lead Generation: Some people avoid leaving their contact information on your website when being directly asked for it. However, quizzes give a perfect opportunity to collect important data about your Shopify site visitors, as well as convert a custom user to a loyal customer with the correct lead generation strategy. So, quizzes are closely connected to your contact list growth.
Personalized Product Recommendations: In order to stand out from increasingly growing brands and e-commerce businesses it is important to deliver your website visitors a totally personalized approach. You can do this through shopping recommendation quizzes that will assist your website visitors in browsing through your presented products which in turn will convert one-time purchases into constant customer retention.
Having Users' Preferences Identified: Quizzes help to reveal the product or service preferences of any visitor. You can collect this data not only to improve your business quality, and boost the most popular products but also to send personalized promotions and discount messages to those who have once engaged in your Shopify e-commerce site.
To be clear, all of these benefits lead to one essential outcome. And it is driving more sales and generating bigger revenue.
5 Best Shopify Quiz Apps for 2023
As soon as you understand the most important benefits you can get when using quizzes on your Shopify site, we will move forward to learn how to make quizzes on Shopify.
So, the good news is that you do not need to hire a specialist for it, neither you must know programming languages to implement quizzes on Shopify. Luckily, there are excellent apps to help you avoid any type of hassles and build the most creative quizzes in an instant.
However, as there is a large number of Shopify quiz apps it is essential to understand what features should be included in an app you should activate on your website. Here are some factors to take into account:
E-commerce platform compatibility
Focus on e-commerce product recommendation
Various quiz forms
Custom design options
Logical sequence of questions
User inputs
Conversion-leading features
So, now, let's unveil our recommendations regarding the best Shopify quiz apps.
In the first place of our listing is Octane AI. A perfect combination of a quiz maker and Artificial Intelligence makes this app very useful and effective.
Octane AI scores 4.8 out of 5-star rating on Shopify. It is an excellent tool for those who look to personalize their Shopify stores for clients by giving precise product recommendations through the quiz questions they answer on your site.
Octane AI is a helping hand in increasing your company's sales, growing your email list, starting strong customer relationships with your business, etc.
Here are some of the advantageous features of the Shopify Octane AI app:
Personal Account manager support when building a quiz on your website
Product quizzes created with AI, conditional logic, tags, and collections
Customizable design, layouts, and quiz templates to match your business voice
Zapier, Klaviyo, Attentive, and many other tools integration
The Shopify Octane AI quiz maker app does not have a totally free version. Instead, you can try the app's features during the 14-day free trial period. After this, you need to proceed with one of the 3 paid plans below:
Octane – $50 per month
Octane Plus – $200 per month
Insights Analyst – $3 per month
Behind every successful business, there is storytelling. Presenting your company's story and narratives has been demonstrated to increase conversions. When they learn about your company's motives, mission, products, story, and values, they are more likely to buy your products and services. Alia, a Shopify quiz app, concentrates on creating engaging quizzes for your website visitors that will allow you to get your story across in a meaningful way to visitors. The idea is to present educational content about your brand and products in a short, interactive way and reward them with discounts after. Alia has the added benefit of being able to create survey questions to collect data and insights from your customers in the quiz. This small investment will result in long-term business perks, such as increased conversions, a high ROI, and sales.
Key Features of Alia
Quiz maker: The initial feature of Alia is creating engaging and interactive quizzes. For example, Alia has developed an easy-to-use quiz maker and editor that supports multiple types of content. You can add texts, images, and even videos to your quiz in order to showcase your brand and products.
Email and phone number collection: Alia's functionality is not limited to making quizzes. The end result of using Alia is much more beneficial for businesses. The quizzes are an easy way to gather data from your customers and enrich your contact base. After a visitor completes the Alia quiz, they are required to enter their email and/or phone number to claim their reward. Their integration with Klaviyo allows you to automatically subscribe the collected data to your contact list. As a result, you will have the right target to send your marketing emails to and will increase your database of users to email or send SMS messages too.
Advanced insights: Customers' insights are a valuable asset for businesses seeking to refine their business strategies, concentration, and mission. You can leverage Alia's survey questions for different purposes by asking them specific questions you want to know the answers to. If you want to segment your customers and send them personalized emails and suggestions, that is where Alia comes in handy.
Customer reward system: Alia will take your quizzes to another level by rewarding your customers for learning about your business after the quiz. You can customize the reward amount and types, such as fixed-price and percentage discounts. The discount codes are uniquely generated for each user and have the option to include an expiration window on the rewards.
Highly customizable: Alongside its core features, Alia is also flexible in terms of design and styling. You can customize the theme of Alia and match it with the look and feel of your website. You can also decide on which pages it will appear and to which visitors (new, returning, all). Finally, if you do not want a widget on your website, Alia can be accessible to visitors on individual products through an embedded button.
Letting the Numbers Talk…
Alia has been helping many businesses like you to grow their brand and increase conversions. If we let numbers talk, then here is the picture we have:
Increase in conversion: Conversion is the process of making regular website visitors do a meaningful action for growing our business. It can be passing a quiz, filling in a form, or making a purchase. Statistics show that Alia works very efficiently resulting in increases in purchasing conversion up to 54%.
High return on investment: We expect the efforts and resources that we invested to eventually pay off (ROI). The higher the profitability, the better. Businesses using Alia increased their ROI up to 20 times.
Increase in total sales: At the end of the day, all businesses seek ways to boost their sales. Alia, employing the brand story and narratives, successfully meets the needs of businesses. As a result, Alia drives up to a 28% increase in sales for many businesses.
Alia has an affordable and transparent pricing policy for all-sized businesses. There are no upfront or monthly fees. Your payment is solely based on whether or not Alia generates sales for your store, specifically when a visitor completes a purchase using an Alia-generated discount code. Alia charges 5% of the post-discount value of these sales that they helped to drive at the end of each month. This means you only pay if they directly drive sales on your site. Alia also caps their fees at a maximum of $50 per month, meaning that not only do you pay nothing if Alia doesn't help your store increase sales, but the most Alia will ever charge is $50 per month (if your usage fees reach that figure).
In the third place, we can find the Quizify Shopify quiz app scoring more than 4.7 stars rating. This is a web-powered app enabling Shopify customers to easily and quickly generate user-friendly quizzes to make a product recommendation. One of the main purposes the app is founded on is the need to lead clients to final checkout. In some aspects of shopping, most people do not reach the checkout page as they can not find the product they really look for. So, the Quizify app helps to build interactive quizzes to help customers navigate on the e-commerce site.
With this app, you will be able to use conditional logic, define the Direct, Tag, Type, and Score of the product that a certain group of customers prefer, as well as analyze the quiz results through insights.
The Quizify app successfully integrates with such famous Email Marketing platforms, as Mailchimp, Active Campaign, Mailchimp, Klaviyo, etc.
One more advantage of this app is that it offers a free-forever installation including a limited number of services. Aside from the free version, the app developers also offer 3 paid packages:
Basic – $4.99 per month
Growth – $19.99 per month
Pro – $39.99 per month
Next comes Presidio which scores a full 5-star rating on Shopify. With it, you can confidently convert an ordinary shopping process into an interactive quiz that can definitely increase your website engagement rate which in turn will lead to sales growth.
Moreover, you do not need to have coding skills to use this app. Instead, you can quickly receive fascinating designs, enhanced item discoverability, valuable analytics, etc. All this thanks to the Presidio app's perfect features, such as:
20 pre-made quiz templates
Custom template-making option
Integrations with Klaviyo, Attentive, etc.
Advanced product recommendations through multiple logic
A/B testing and thorough analytics
Sending quiz results through email or directly on your website
The Presidio app comes up with a 7-day free trial period. After that, you will be charged according to the plan you choose:
Starter – $19 per month
Basic – $59 per month
Middle – $129 per month
Advanced – $249 per month
Last but now least tool from the best Shopify quiz apps listing that is focused on e-commerce product recommendations is Shop Quiz. Currently, it scores 4.9 out of 5-star rating. The main operation formula of this app is asking clients questions to reveal their product preferences and give significant recommendations according to the responses.
This app also benefits the lead generation process. Moreover, it not only collects game-changing user data through targeted logical questions but it also grows your email list filling it with qualified leads that have somehow converted with your product or service.
Here are some of the app's features that might be interesting to you:
User segmentation and tagging according to their quiz responses
CRM and Email list growth with captured leads to run personalized campaigns.
One of the good things about this app is that it fully provides a free plan for up to 100 quiz responses per month.
You can find other packages below:
Basic Plan – $39 per month
Pro Plan – $99 per month
To Wrap Things Up…
In conclusion, we would like to speak about the importance of quiz apps one more time.
So, quizzes are a fascinating way to make product recommendations for those customers who can not decide on a single item. Using Shopify quiz apps will not only help you to track your clients' behavior and issues but will also make them sure that their opinion is important to you as a shop owner.
As you understand, quizzes aim to provide your customers with a more customized user experience on your website. According to statistics, users who take quizzes are 3 to 10 times more likely to convert than those who do not take them.
Aside from this, quizzes highly impact your website SEO. Thanks to its interactive and interesting content, quizzes keep users active on your website which benefits your Shopify site's stay time.
Considering these crucial points, we have searched for the 5 top Shopify quiz apps to present them to you. So, find the best choice for you and start taking big advantage of quizzes on your e-commerce platform.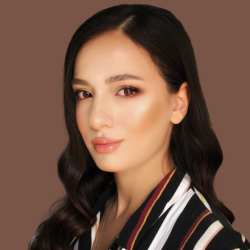 Latest posts by Anahit V.
(see all)