Shopify dropshipping is a hassle-free retail method requiring low investment and flexibility. It enables the sellers to make product listings on their Shopify sites without implementing an inventor. So, after receiving a customer's order the drop shipper purchases the product from a 3rd party e-commerce site after which the supplier ships the products to a customer. Thus, dropshipping is an interesting B2C chain leading to higher revenue while putting a relatively small amount in the business. If you are interested in starting this beneficial retail business on Shopify then all you need is a good app for this. In this article, we aim to present the top Shopify dropshipping apps for 2023.
What are the Benefits of Dropshipping?
As you have already understood dropshipping is a good way of passive income and in fact, it can grow into a successful business bringing a good revenue.
So, what are the benefits of dropshipping? Let's list them one by one.
Cost-effective and time-saving: If you start a dropshipping business you do not need to deal with warehouse renting costs and hassles to store your products. Also, you do not carry the packaging and shipping difficulties and responsibilities.
Choosing your preferred location: Even if you decide to run your dropshipping business from your bedroom, you can definitely succeed in it. So, one of the greatest benefits of dropshipping is the business location flexibility.
Product diversity: You are able to sell a large variety of products listed on your site without worrying about buying the same item in large quantities.
Avoiding extra workload: If your business scales doubling the sales, this does not affect your workload. Moreover, the biggest part of the selling, packaging, and shipping work falls on the supplier.
Top Shopify Dropshipping Apps for 2023
As you continue to read this article, we can expect your interest in exploring the best dropshipping apps for Shopify. Let's look at them one by one.
If you are planning to sell fashion items through dropshipping then Trendsi is your go-to tool. Having a 4.9 out of 5-star rating it is a top dropshipping app for Shopify.
The app enables drop shippers to find fashion products in the United States without being concerned about inventory, shipping, or return requests.
Activating the Trendsi tool will allow you to access the most reliable and high-quality US fashion brands. It is your all-in-one solution by simplifying:
Product listings building process
Manufacturing
Logistics
Moreover, you do not need to think about the product description or photos. You can add real item images easily with the listing products. So, the Trendsi app offers an automatic dropshipping process for you to enjoy constantly increasing business sales while working in your leisure time.
Pricing
You can install Trendsi totally for free without encountering hidden monthly fees and charges.
Starting dropshipping might be a risky decision since you partner with companies and brands whom you do not know. They might turn out to be scams or deliver low-quality products to your customers. And that's where Buddify steps in with its solutions to your concerns. This Shopify app is trusted by more than 750 brands that have established 2500+ partnerships. According to the statistics, those businesses that started using Buddify increased their sales by 29%. Within Buddify there are brands from over 30 countries, providing access to a vast selection of more than 50,000 products. Buddify is the platform where brands collaborate rather than compete, enabling them to sell together and, as a result, sell more.
Key Features of Buddify
Building partnerships: you can collaborate with top-niche brands on the Buddify platform and expand your product catalog, by easily importing their products to your list. The most amazing part is that you do not need to buy inventory to start selling the other products in your store!
Promoting your products: Likewise, the other brands will be able to sell your goods, so the awareness of your brand and your products will be boosted, and new customers will come with no upfront fees.
Wholesale prices & high margins: If you are sure that a particular product will perform well in your store, you can do wholesale, and take advantage of the bulk ordering and flexible payment. With Buddify you will get at least 25% discounts from the other brands when doing wholesale. The discount will be automatically applied once you are on the checkout page. The platform allows stores to sell their products to other brands in bulk and buy products in bulk from other brands, similar to the functionality on Faire.
Source Unique Products: We offer a diverse catalog of 50,000 high-quality products, allowing stores to expand and diversify their product offerings.
Other Features of Buddify for Sales
Sell & Promote Your Products: Buddify is a sales channel designed to boost sales. By supplying products, stores can increase their sales since other stores will sell these products on their behalf, similar to an affiliate relationship.
B2B Lead Generation: Stores can engage in joint marketing campaigns, invest in other businesses, and establish strategic partnerships to drive growth.
No risks: Buddify ensures that all the brands are verified users and that they are not scams. You have direct contact with the brand and you can control the whole process by tracking your orders. Buddify allows its users to test new products at no risk without any prepayment.
Increase Conversion Rate and Average Order Value: Expanding and diversifying product catalogs typically leads to an average increase of 30% in both conversion rates and average order values for stores.
No transaction fees & commissions: Yes, you heard right! You will not pay any fees for doing good in your business. Instead, Buddify has very reasonable and flexible pricing for all businesses of any type and size.
Buddify has a forever-free "Starter" plan for its users to make a well-informed decision. Other than that, the app has flexible and reasonable pricing plans that meet the needs of businesses of any size and kind.
Spocket is another dropshipping tool for Shopify enabling you to get high-quality and fast-shipping products from the US and the whole EU territory. To ease your working process, Spocket allows drop shippers to search for a certain product using its image. As well as Spocket users highly enjoy the app's partnership with two of the best e-commerce marketplaces – Alibaba and AliExpress.
One more advantage to list about this app is that there is no minimum order amount. Instead, you can get big discounts and wholesale affordable prices.
Prioritizing the importance of customer retention and loyalty, Spocket allows you to use the Branded Invoicing tool for building a strong brand to which the customers will always return.
If in some aspect of app usage, you encounter an issue or a tool you can not use properly you can instantly contact the fast-replying 24/7 customer support service.
For those who do not want to invest in purchasing a dropshipping tool, there is a totally free Spocket plan. Still, it enables you to access AliExpress dropshipping and more than 7 million product catalogs.
Otherwise, if you want to try more advanced features, you can activate one of the paid plans at this pricing:
Starter– $39.99 per month
Pro – $59.99 per month
Empire – $99.99 per month
The next Ali Orders tool from our list is specifically focused on dropshipping through AliExpress and Temu. With just a few clicks highly organized product listings with your own pricing rules will automatically displayed on your screen. Moreover, it is more than easy to accept orders on your site. Once the shopper places an order, the app handles the rest of the job ensuring a great dropshipping process both for the business owner and for the customers.
If you use DSers, Zendrop, and Oberlo, then you can easily migrate to this app without hassles.
The AO – AliExpress Dropshipping app offers a free plan. With this, you can still enjoy importing and mapping a limited quantity of products and fulfill not more than 20 orders per month.
If you try to explore more on this app, then you can purchase one of the offered paid packages:
Starter – $9.90 per month
Basic – $19.90 per month
Advanced – $49.90 per month
The last app from our top Shopify dropshipping apps list is AutoDS. This tool enables drop shippers to access more than 99 global suppliers to organize the whole retail process quickly.
With this app, you can save time on differentiating the custom brands and premium dropshipping products. The app provides advanced product sourcing options.
You are also able to optimize your product listings with high-quality stock images, titles, item descriptions, and prices.
To start with the AutoDS app is easier than you might think. This is because you can find a large number of app resources to learn more about its operation.
Although this app does not offer a free-forever plan you can still try its features before making a purchase. The free trial period lasts up to 14 days.
Here are the AutoDS app's pricing plans:
Products Importer – $26.90 per month
Starter – $39.90 per month
Warrior Dropship – $66.90 per month
In Conclusion
Dropshipping is increasingly gaining popularity as a source of passive income. This model of retail business is quite affordable to start, time-saving, and can be easily combined with your full-time job.
So, if you intend to start a dropshipping business on Shopify then the 5 top Shopify Dropshipping Apps listed in this article can be a great help.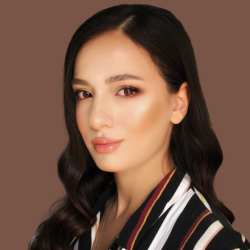 Latest posts by Anahit V.
(see all)